The Aquatic Management Services Journey
The Aquatic Management Services Journey: A History of Lake and Pond Management Excellence
Since 1986, the focus of Aquatic Management Services (AMS) has been to provide our clients with the best value in lake and pond management through superior service and expertise, with an unconditional desire to preserve our natural resources. In growing the business over the past 31 years, our mission has always been to deliver an excellent experience coupled with expert technical services for all of our clients. As we looked at options to continue offering the best service possible in the future, it became clear that joining together with SOLitude was the best decision for us all. It is with great anticipation and excitement that we introduce you to SOLitude Lake Management.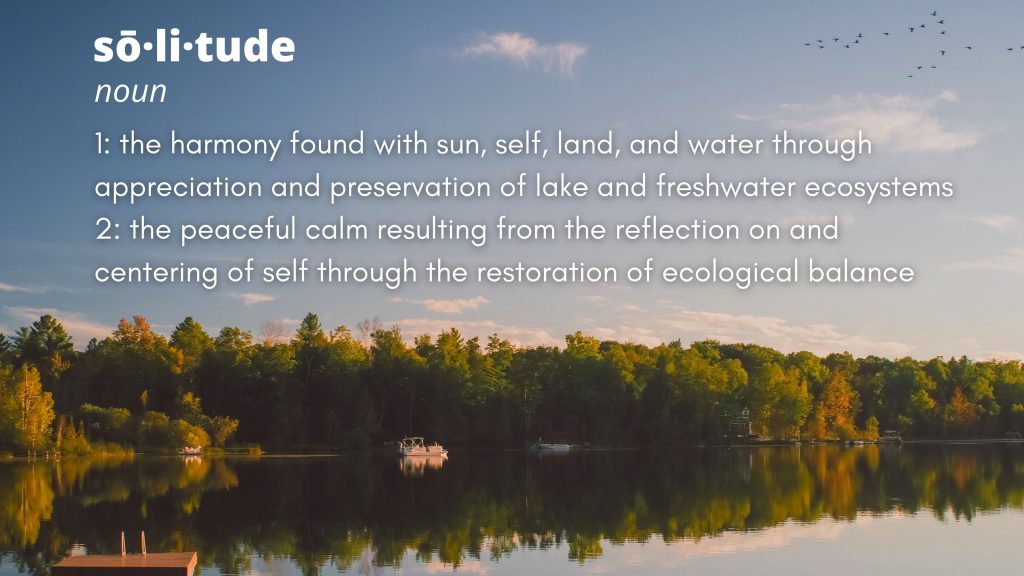 As always, we are committed to delivering superior solutions for your lake, pond, wetland, and fisheries management needs. We are excited to continue our journey into next year and beyond as SOLitude!
With our unmatched expertise and reputation in the industry, our team can leverage the best equipment, technologies, and products in the industry, allowing you to benefit from our growth. Finally, we invite you to be part of The SOLution, a company-wide program that encourages the company, staff, and our valued clients and partners to strive to "create a better world" through volunteerism, community outreach, sustainability, and environmental consciousness. Learn how we are involved and continually enhancing our local communities. We very much look forward to the journey ahead and thank all of our clients and others who have been so instrumental in our success.
Community Floating Fountains
Electrofishing & Fish Population Surveying
Golf Course Pond Services
Hydro-raking Muck Removal & Dredging Services
Helped Restore Community Pond

These guys are great. Every time I stop them to ask what they are doing they are very polite and knowledgeable. Before we had them in our community our ponds were loaded with scum. Keep up the good work!
From Swap to Beautiful, Clear Pond

For about 30 years I watched the encroachment of weeds across my pond, limiting not only our recreational use but our aesthetic appreciation as well. SOLitude Lake Management came in with their hydro-raking harvester and clear it all out! It was the first time I could swim across the entire pond! No swamp, just beautiful water that passers-by slow down to look at.
SOLitude Provided Wise Counsel

SOLitude provided wise counsel on how to keep our lake healthy and provided frequent onsite follow-up visits to check the success of new products. I am particularly impressed with the herbicide team!
Successfully Eradicated Hydrilla

I've been battling Hydrilla milfoil for a number of years, without great success. I stumbled across SOLitude Lake Management online and I'm so glad I did! Noel and his team of professionals listened to our problem, gave advice, and developed a management plan for our lake. They applied a very thorough milfoil-specific treatment and now, all of the visible weed is eradicated! I wish I would've found this company years ago! I would highly recommend anyone who is looking for a team to help with any lake weed issues.
Recommendations Are Thoughtful & Achievable

Erin and the rest of the SOLitude crew do a fantastic job monitoring water quality and algae growth. Erin used environmentally friendly products to control both the algae and maintain water quality with great success. Site visits are as promised and reports are clear and concise and recommendations are always thoughtful and achievable. We appreciate the effort by Erin and the other SOLitude staff that support our effort.
I Suggest You Call SOLitude

SOLitude was very professional and understood the budget constraints that we have at our community center and lake. They proposed properly sized solutions to help us solve the algae problems in our lake. The staff was great to work with – I suggest you call them.
Our Fishery Is In It's Best Condition Ever

Thank you to SOLitude for all your help at our Fishing Club. Our hydrilla problem is practically non-existent now. The fish survey you completed for us, the recommendations on slot sizes, and the stocking and feeding program you developed are producing outstanding results. Our club's fishery is in the best condition it has ever been! Your presentation to our stockholders at our annual meeting was extremely well received. We are getting ready to enhance our fish attractors as suggested. We appreciate that a management program was developed that fits within our budget and that you are available to talk with us when we have questions. We look forward to continuing our association with SOLitude.
A Huge Improvement with SOLitude

I wanted to let you know how pleased we are with the results of the algae treatment. We noticed a huge improvement very quickly, and at this point, the pond looks really, really great. Also, the fish are thriving – some of the bass are over a foot, and the Bluegills have also gotten big. We are just thrilled. Thank you so much for your responsiveness.
From an Eyesore to Thriving Ecosystem

In one season, SOLitude Lake Management turned the two lakes on my Virginia property from dead, weed-infested, eyesores into thriving, fish-filled, ecosystems – and they have maintained them as such ever since!
Pleased with the Quality of Service

We've been working with SOLitude Lake Management since 2009 when an aggressive aquatic weed was becoming a problem and taking over our pond. The staff of SOLitude Lake Management identified the weed and treated the pond promptly with much success. Since that time, our ponds have been monitored monthly by their competent staff and precautions have been taken so that the pond weeds do not get out of control. We are pleased with the quality of service and their effort to work with us towards an organic approach to keeping our ponds healthy.
Thank You from Camp Holiday Trails

Thank you for coordinating the restoration effort for our pond and donating labor for the aerator installation and watermeal treatment. This will ensure that hundreds of kids with special medical needs, and those who have the honor, joy, and inspiration of working with them, will benefit from the Camp Holiday Trails experience this year!
Top Notch Service

When one of our stormwater BMPs was overtaken by phragmites, we called SOLitude for treatment. From the bidding process to the follow-up, the service we received was top-notch. A year later, the Phragmites have still not returned. Considering how invasive this species is, this is quite an accomplishment!
Got Ponds Back Into Shape

We have 5 water features on the property and before SOLitude Lake Management came, our ponds were full of algae and aquatic weeds, looking very unhealthy. In the past 7 years, SOLitude has cleaned out our ponds and got them back into shape making them look like amazing water features as they should be.
Taken A Huge Burden Off My Shoulders

We used to struggle with many different issues on holes 15, 16, and 17 at our Country Club. It was not uncommon for us to see algae blooms appear out of nowhere along one of the most important focal points of the course. Since SOLitude Lake Management has been taking care of the pond for us, we have had very few issues with the aesthetic qualities of our pond. SOLitude has taken a huge burden off of my shoulders and now I don't even have to worry about the appearance of our pond
Healthy Water Quality & Fish

SOLitude has been managing our lake for the past two years. Through their efforts, the lake's water quality has improved tremendously. Even with one of the hottest and dryest seasons I received nothing but compliments on the water clarity as well as positive feedback from fishermen about the abundance of healthy fish.
Leslie Is One of the Best!

Leslie listened to my needs and concerns, she didn't offer a fix until she surveyed the lake. It was refreshing to work with someone who cared enough to listen and plan out the best needs of service. If you're looking for lake maintenance, she is one of the best! I highly recommend!
Extremely Helpful & Friendly Staff

Extremely helpful and friendly staff that is always a pleasure to deal with. I have used this company for over 4 years now and they have provided great service and were able to deal with and correct problems that five other lake management companies were not able to even begin to address. I highly recommend this company for any of your lake service needs.
Responsive to Our Needs

SOLitude manages our 28 lakes at our Country Club and we have formed a great partnership with them and in particular Christina and Garrett. They are responsive to our needs and take the time to explain their process and ongoing management plans to staff, board members, and owners as well as answer their questions.
A Pleasure to Work with SOLitude

For the past 2 years as a member of our neighborhood board, I worked personally with Mitchell of SOLitude Lake Management. Our neighborhood has over 40 lakes & ponds. I can honestly say it was a pleasure to work with this vendor. Mitchell provided weekly updates and as our aquatics expert, he helped educate us and assisted in developing a restorative approach to our lake & pond management. It was a pleasure to work with such a knowledgeable representative. Thanks!
We Are In Good Hands with SOLitude

We were presented with the challenge of dealing with our stormwater basin, which is regulated by EPA standards that we were not familiar with. SOLitude came in and guided us through the entire process. Our basin went from an eyesore to a spectacular main selling point for our community. We are in good hands with SOLitude and cannot thank them enough!
Our Pond Is In Very Good Health

SOLitude manages a pond for us that is a shared responsibility between three entities. The health of our pond has been very good since they took over the maintenance. I would recommend SOLitude for pond maintenance needs.
Easy to Work With & Professional

SOLitude Lake Management has been a tremendous help with our two small ponds. Easy to work with and very professional. Customer service was excellent. Thank you, Kaitlyn and Matti.
The Water Is Crystal Clear

The water quality and clarity has been great! Our waterfall and fountain feature is located at the entrance of the community. We are mandated to use reclaimed water. The water is crystal clear.
Improved Our Lake's Appearance & Health

SOLitude Lake Management was able to provide some experienced/expert advice regarding our unique lake environment. The follow-through on their recommendations has significantly improved our lake's appearance and health. Their knowledge was an asset and their "in the field" personnel have been great to work with at our Golf Club.
SOLitude Solved All the Problems

SOLitude Lake Management did a great job. Dylan is the gentleman that works on two of our property ponds, and from day one, he's solved all the problems. Very professional and explains every step of what he is doing.
Staff Give 110% Day After Day

Reliably at the job site ahead of our scheduled time. Good communication ahead of fieldwork to get details nailed down. Staff gives 110% day after day even in challenging environments. Courteous and respectful; great ambassadors for our project. Great value for top-notch work.
Very Professional & Responsive

The SOLitude team is my go-to for all my lake needs. Very professional and responsive. I know I will always be taken care of even when it is something extremely difficult. Their years of experience make them the best lake company in the valley. Highly recommended. Thanks, team!
Professional & Knowledgeable

Working with SOLitude has been a great experience! Their professionalism, knowledge, response, and timing are the qualities that will give you peace of mind.
SOLitude Helped Us Achieve Our Community Goals

As the manager of wetlands and open water for my community, I work with SOLitude Lake Management closely. They have helped us define our vision and achieve our goals. Every wetland area and body of water has different uses and different needs. SOLitude understands that and ensures those needs are met all the while keeping the budget in mind. We have annual fishing tournaments and they come out and talk with the anglers, explaining what we've done during the past year and what our future steps will be. Management of wildlife and waters is an ongoing and long-term commitment, SOLitude understands this. They have a dedicated staff that not only manages these areas but also helps educate their clients.
Reliable and Quick to Respond

SOLitude Lake Management has been managing our lake/stormwater pond, and fountains since 2005. Their team has always been reliable and quick to respond to any issues. They are all very knowledgeable, able to explain what is happening with any situation and find solutions to problems as they arise. Overall, I have been very pleased with their work and would highly recommend them to anyone with lake, pond, and other BMP management needs.
The SOLitude Team Is Absolutely Fabulous!

SOLitude consistently provides top-notch customer service and performance, whether it is over the phone or in person on-site. My questions are always answered promptly by your professional and knowledgeable staff. The SOLitude Team is absolutely fabulous!
SOLitude Helped Relieve the Pressure of Maintaining My Pond

Working with the team from SOLitude Lake Management took away the pressure of dealing with an issue that I had never specialized in. The knowledge of everyone involved helped keep the process moving, from engineering to local code compliance. They knew the course that needed to be taken and it was implemented in a timely manner, causing the project to come to completion well within our expectations.
Hat's Off to SOLitude!

SOLitude Lake Management has consistently performed to a high standard within the three communities they currently service for my clients. Whether it is routine maintenance or a major issue, I can always be assured that when I call or email we will have almost immediate communication and actionable timelines. In a busy industry such as this one, having someone that stays in touch is critical and appreciated. Hat's off to SOLitude for a job well done!
SOLitude Makes My Life Easy

Your professionalism and expediency in getting a job done make my life as a Property Association Manager so much easier. Thanks for the fantastic lighting job on the BMP fountain. I have had nothing but great comments from residents.
SOLitude Gets Homeowners Calling with Compliments

I had two phone calls today from homeowners telling me how beautiful the pond is and that they love the festive lights. Many thanks to SOLitude for always doing such a great job on our community pond!
SOLitude Provided the Perfect Solution

Our Club was more interested in a mechanical removal approach to our weed problem versus a broad-spectrum chemical treatment. Jeff Castellani and his team developed a plan that was well suited for our environmentally sensitive location. The mechanical hydro-raking service that SOLitude provided was the perfect solution and worked very well in our shallow irrigation pond… We look forward to working with Jeff and his professional staff in the coming years.

See For Yourself: Proven Results
Hydro-raking & Dredging Services: Maidencane Removal
Filamentous Pond Algae Treatment
Invasive Aquatic Weed Control Services
Sustainable & Effective Pond & Lake Maintenance & Solutions
We very much look forward to the journey ahead and thank all of our clients and others who have been so instrumental in our success. We pledge to be your environmental partner, working with you to improve water quality and preserve your natural resources, reducing our environmental footprint, and leaving our world a better place.
Your Aquatic Management Team at SOLitude Lake Management