Lake And Pond Aeration
Lake & Pond Aeration: Equipment, Benefits & Maintenance
SOLitude Lake Management continually strives to promote balanced aquatic ecosystems for the enjoyment of all who enjoy lakes and ponds. A widely used tool to achieve this goal is aeration. Floating fountains, surface aerators, and submersed aerators are highly effective at improving oxygen circulation and creating a desirable aquatic environment. 
The benefits of a well-oxygenated waterbody are extensive. Dissolved oxygen supports desirable fish and microbes, making water quality more balanced. When water quality is balanced, algae, aquatic weeds, muck build-up, and bad odors are less likely to occur. Aeration also helps improve water clarity. Learn more about the different systems available to you and how they each function to enhance the health of aquatic environments.
We are proud to offer top-of-the-line floating fountains and submersed aeration systems from our partners, AquaMaster, Vertex Aquatic Solutions, Kasco, Airmax, Keeton, Bearon Aquatics, and Otterbine. With these partnerships, we are able to provide a variety of fountain and aeration solutions that will help you reach your management goals.
Floating Fountain Vendor Partners
Floating lake fountains offer aesthetically-pleasing visuals that add beauty and dimension to any waterbody. But unique spray patterns and customizable lighting features aren't the only advantages; floating fountains are excellent tools for water circulation and oxygen transfer. These benefits are most effective at the water's surface, so they are best utilized in shallow waterbodies or when paired with submersed aeration systems.
Vendor Partners for Floating Fountains
We are proud to partner with several lake and pond fountain vendors to help enhance our client's waterbodies. Learn more about our vendor partners below:
Submersed Pond Aerators (Pond Air Diffusers) & Installation
Submersed aerators utilize a weather-protected on-shore compressor to pump air through a subsurface tube that releases bubbles from the bottom of a lake or pond. As the bubbles rise, they carry the low oxygen water from the bottom towards the surface, where it mixes with atmospheric oxygen before sinking back to the bottom. The continuous vertical mixing helps increase oxygen concentrations throughout the entire waterbody, particularly deeper waters.
Vendor Partners for Floating Fountains
We are proud to partner with several lake and pond submersed aeration vendors to help enhance our client's waterbodies. Learn more about our vendor partners below:
Surface Aerators
While aeration equipment has evolved over the decades, the purpose hasn't changed – to circulate and oxygenate the water column. Floating fountains are usually the most recognizable type of aeration thanks to their eye-catching spray patterns and lighting features, but there is not always a need for the bells and whistles that set them apart. If function is more important than form, stakeholders can find great success with a surface aerator.
Surface aerators share a resemblance to fountains, but instead of pleasing conical patterns and pretty nozzles, surface aerators run at lower speeds with large propellers that produce a boil-like flow on the surface of the water. Surface aerators are an excellent choice for ponds with less than 4-6 ft. of average depth. The circulation and oxygenation benefits provided by surface aerators become more limited beyond that depth.
Solar Aeration
All lakes and ponds can benefit from the aeration, but many waterbodies are not located in areas with accessible electricity to power the equipment. More remote aquatic environments such as those on private properties, ranches, and golf courses may choose to rely on solar-powered systems to reap the benefits of increased oxygen and circulation. Though these systems come with certain limitations, they are an excellent choice for waterbodies with no power options.
Architectural Fountains & Waterfalls
Sometimes property owners prioritize form over function. Architectural water features aren't typically used for circulation or oxygenation purposes. Instead, they serve as a focal point for HOA communities, business parks, golf courses, colleges and universities, and virtually any property in need of a beautiful centerpiece. Water features can be completely customized with an array of designs and materials and are usually very simple to maintain.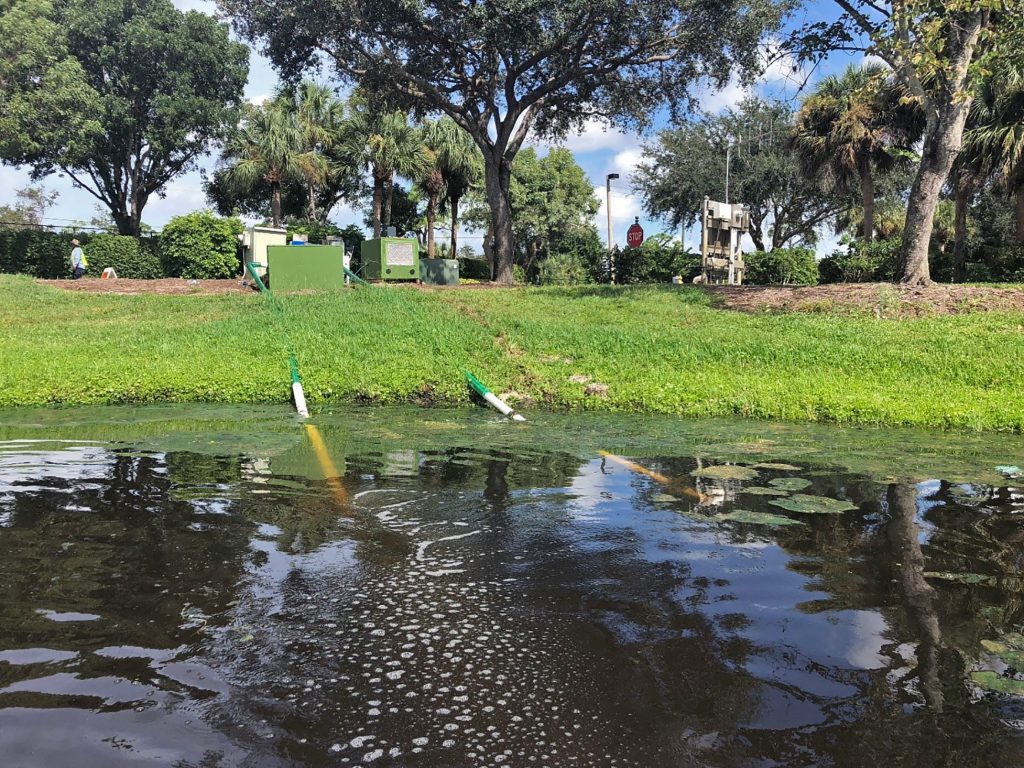 Innovative Oxygenation Technology
New aeration alternatives, like nanobubble technology, have helped maximize the benefits of both fountains and submersed aeration systems. Nanobubbles are produced by compact on-shore generators, but they are about 1 million times smaller than ordinary bubbles and have a strong negative surface charge. As a result, they provide long-lasting oxygenation within the water column—and even the sediments—for up to 2-3 months without popping.
Nanobubbles are not only effective at reducing odors, breaking down bottom muck and restoring water quality; some manufacturers have registered their equipment as a pesticidal device with the Environmental Protection Agency (EPA), meaning it can be used to naturally eradicate nuisance algae and toxic cyanobacteria.
Regular Maintenance Helps Maximize These Benefits
Like all other aspects of your lake or pond, your aeration system requires recurring maintenance to ensure it continues operating at optimal efficiency. A premium maintenance program through SOLitude's SOL Pro annual management plans includes monthly aeration inspections so you can rest assured that you're maximizing your aeration benefits and your budget.
Want to learn more about lake and pond aeration or need help choosing a system that's right for your property? Speak with our experts.
Great Partnership for Nearly A Decade

I'm the property manager of a large residential community in the Tampa Bay area. The property has 27 waterbodies ranging in size from several hundred square feet to almost 69 acres. SOLitude has serviced our aquatic needs for nearly a decade which have ranged from shoreline restoration and aquatic plantings to algae treatment and aeration with excellence and integrity. As a partner in our efforts to always improve our water quality they are a great resource and are able to provide any service relating to water that may be needed.
No More Algae!

SOLitude has completely corrected our community pond. No more algae, which has kept the fountain running well. We have a monthly maintenance contract, and I always receive notice of when they are coming and if they found any issues.
Pond & Fountain Looks Great

Thank you for always keeping my neighborhood's ponds and fountains looking great. And, many times, weathering the weather to make it happen!
Keep Lake Free of Algae & Debris

SOLitude Lake Management has been the lake management company for our community lake located in Alexandria, VA, for five years now and we have found them to be very professional and responsive to our needs of keeping the lake free of algae and other debris. They also service the lighted fountains when needed. The team members are friendly, receptive, and willing to discuss lake maintenance options when signing the contract.
Our Lake Is the Best It's Been In Years

Our large lake association had SOLitude install a full lake aeration system and perform an alum application. Our lake is the best it has been in several years.
Keeps My Pond Looking Great Year-Round

SOLitude is always available to answer questions and help landowners tackle the difficulties of managing a lake or pond. They helped me with aeration and lend me their knowledge to keep my pond looking great all year!
Fully Met My Needs – Outstanding!

Finding a company in St Louis to service central Illinois residents is quite difficult, but SOLitude fully met my needs to repair my fountain. The service crew was very friendly, efficient, and professional. I would definitely use SOLitude again, and I have already referred a neighbor to them. OUTSTANDING!
Pleasure to Do Business With

SOLitude Lake Management is a pleasure to do business with. Very professional and friendly from the first contact by phone to the actual order, installation and follow-up.
Top-Notch Work

SOLitude is an excellent company. Very professional and they do quality work. They installed my dad's new fountain and it's top-notch. Flo, Chris, and Victor the installer, Adrienne, and Camilia were all great to work with.
Improve Our Water Quality

SOLitude Lake Management visited our Miami Lakes Community to obtain water samples as part of the Town of Miami Lakes lake water improvement initiative. The staff was highly professional, explained all details of lake water maintenance, and took the time to provide remedies for non-oxygenated waters. Highly recommend.
Improve Your Lake's Water Quality with SOLitude

I have worked with SOLitude for many years at our HOA with our lakes committee. Our biologist, Christina, has been such an asset to our community from the installation of lake aeration to nutrient mitigation and her positive attitude and professionalism. The entire company is one that I would certainly recommend to any community seeking to improve their lake's water quality.
You Can Count On SOLitude

Christine and SOLitude are the best lake company I have had the privilege of working with as a Property Manager. I do not have to worry about service, fountains, aerators, littorals, or most importantly weed infestation on lake banks. I have been in the business for over 10 years and if the property is one Christine is in charge of with SOLitude, you can count on them running things very professionally. Absolute 5-star treatment.
Recommendations Are Thoughtful & Achievable

Erin and the rest of the SOLitude crew do a fantastic job monitoring water quality and algae growth. Erin used environmentally friendly products to control both the algae and maintain water quality with great success. Site visits are as promised and reports are clear and concise and recommendations are always thoughtful and achievable. We appreciate the effort by Erin and the other SOLitude staff that support our effort.
The Water Is Crystal Clear

The water quality and clarity has been great! Our waterfall and fountain feature is located at the entrance of the community. We are mandated to use reclaimed water. The water is crystal clear.
SOLitude Makes My Life Easy

Your professionalism and expediency in getting a job done make my life as a Property Association Manager so much easier. Thanks for the fantastic lighting job on the BMP fountain. I have had nothing but great comments from residents.
Reliable and Quick to Respond

SOLitude Lake Management has been managing our lake/stormwater pond, and fountains since 2005. Their team has always been reliable and quick to respond to any issues. They are all very knowledgeable, able to explain what is happening with any situation and find solutions to problems as they arise. Overall, I have been very pleased with their work and would highly recommend them to anyone with lake, pond, and other BMP management needs.
Thank You from Camp Holiday Trails

Thank you for coordinating the restoration effort for our pond and donating labor for the aerator installation and watermeal treatment. This will ensure that hundreds of kids with special medical needs, and those who have the honor, joy, and inspiration of working with them, will benefit from the Camp Holiday Trails experience this year!
SOLitude Gets Homeowners Calling with Compliments

I had two phone calls today from homeowners telling me how beautiful the pond is and that they love the festive lights. Many thanks to SOLitude for always doing such a great job on our community pond!
Enhance Your Water with Aeration
At SOLitude Lake Management we're dedicated to making water a more healthy and beautiful part of our environment and our world. Discover how aeration helps you maintain beautiful, clean water.