Lake & Pond Management for Apartment Communities
Lake and Pond Management Services for Apartment Communities
Over-tasked, overwhelmed and often under-appreciated for all that you do: the plight of the apartment community manager. With a growing to-do list, you're always looking for some relief. That's where SOLitude comes in. With a commitment to innovation and technological advancement, SOLitude offers an array of proactive, natural management solutions that leave your waterbodies looking pristine and healthy, making them a safe and fun recreational and scenic resource for your residents.
Achieve Algae-Free Water In 3 Steps
We know it can be frustrating when the water you are responsible for looks bad. Achieving clean, healthy water that residents will enjoy and appreciate is possible. With our aquatic management experts, you can reach your goals in three simple steps…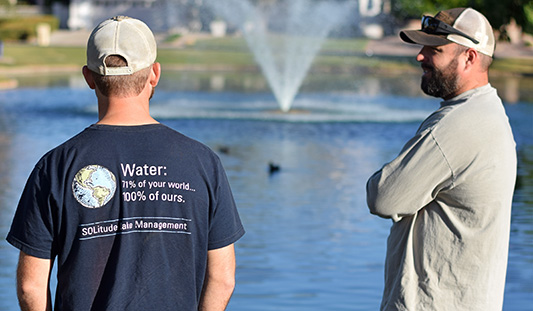 1. Set Up A Free Consultation
2. Build Your Custom Plan
3. Enjoy Your Water!
We Know You Care About Your Water, We Care Too.
We are happy to provide a suite of innovative solutions that proactively manage your waterbody so you can focus on other aspects of your community. Complete your community with aquatic management solutions such as:
Aeration
Submersed aerators help enhance water quality in lakes and ponds by increasing dissolved oxygen levels. This natural tool is an excellent addition to any waterbody looking to maintain balanced water quality.
Floating Fountain
We offer installation, service, and warranty support for all of the top brands of lake and pond floating fountains. This solution helps increase dissolved oxygen levels in shallow waterbodies while enhancing aesthetics.
Water Quality Testing
We offer installation, service, and warranty support for all of the top brands of lake and pond floating fountains. This solution helps increase dissolved oxygen levels in shallow waterbodies while enhancing aesthetics.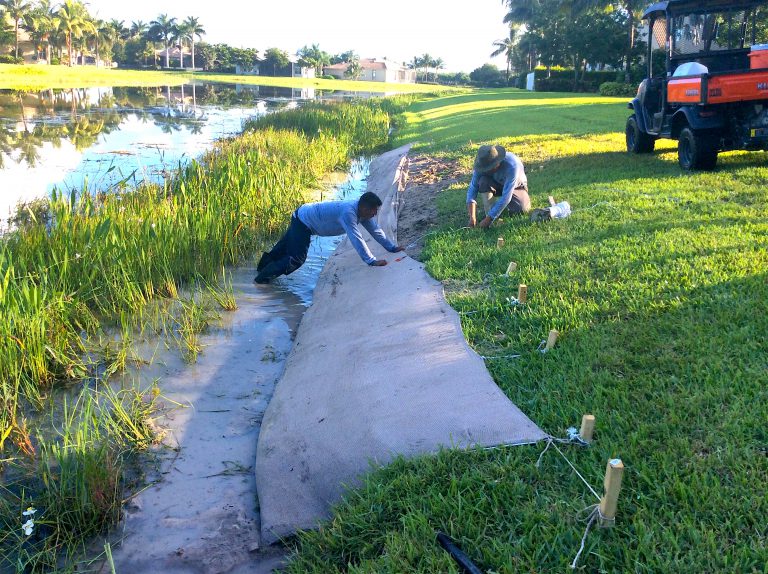 Shoreline Erosion Management
We offer a variety of shoreline erosion control solutions that halt sedimentation and restore damaged banks. Enhance your community's shoreline with SOX Systems and create a safe space for all to enjoy.
Fisheries Management
Ready to catch some fish? We offer professional fish stocking, habitat management, fish feeder installation, electrofishing surveys, and other fisheries management strategies to help you build your dream fishery.
Hydro-Raking
The hydro-rake clears accumulations of unconsolidated muck and debris (i.e. decaying leaves, peat, etc.) from lake and pond bottoms. This natural solution can also be used to control aquatic weed growth.
Algae & Aquatic Weed Control
Our lake and pond professionals utilize the most advanced products and practices for lake weed control and algae treatment solutions to help eliminate algae and nuisance aquatic weed growth.
Nutrient Remediation
Nutrient remediation is a natural management strategy utilized to reduce excess nutrient levels in lakes and ponds. Products like Phoslock, Alum, and EutroSORB can help limit water quality imbalances by managing excess nutrient levels.
Beneficial Buffer Management
Beneficial buffers add beauty to your lake or pond, prevent shoreline erosion, and help filter excess nutrients from entering the water. Establish your buffer with native vegetation to help maintain beautiful water.
Bathymetric Studies
Equipped with the very latest in GPS surface mapping, bathymetry, 3-D contour imaging, and aerial and fly-over video resources, we are able to analyze your waterbody below the surface with lake mapping technologies.
Dredging
Increase the depth of your waterbody while removing sediment and muck buildup with dredging. With this solution, you can reset the lifespan of your lake or pond and implement proactive solutions for a healthier waterbody.
BEFORE & AFTER
Invasive Aquatic Weed Treatment
Repairing Eroded Shorelines
Restoring A Pond with Aquatic Weeds
Adopt the Integrated Approach: Lake Management Solutions that Work Better Together
Waterbodies are complex which means they often need attention from many angles. A holistic Annual Management Plan that incorporates beneficial buffer management and annual water quality testing can give you a healthy, beautiful waterbody. Neglecting to establish a buffer or an aeration system, for example, could leave your waterbody vulnerable to erosion, toxic algae blooms, and other water quality issues. Integrating customized lake and pond solutions will lead to a more balanced management program and give you peace of mind knowing your residents are enjoying healthy and safe aquatic resources year-round.
Excellent Service to Our Pond

They provide excellent service to our pond. Their reports are always comprehensive and detailed. And their customer service team is always quick to respond and friendly. A big shout out to Flo who was able to assist me when I was having issues accessing documents.
Responsive & Timely

SOLitude has done an excellent job maintaining our lake here in Alexandria, VA. They are responsive and timely in their follow-up to service requests and the repairs are quick and their team members are very professional. We would recommend them to maintain your lake or pond.
Pond & Fountain Looks Great

Thank you for always keeping my neighborhood's ponds and fountains looking great. And, many times, weathering the weather to make it happen!
Extraordinarily Happy with SOLitude

Our neighborhood has been working with SOLitude and we have been extraordinarily happy. Prior to our relationship with them, we had contracted with another company that was less than professional in many ways. This has not been the case with SOLitude! They are professional, communicative, prompt, and do an excellent job at what we have asked them to do. We appreciate this company and its employees very much.
Great to Work With From Start to Finish

I have had a wonderful professional working relationship with SOLitude for several years. It has been such an awesome experience from all departments within SOLitude that I would highly recommend them to anyone who has pond maintenance service needs. Great company to work with from the beginning to the completion of a job!
Always Do Quality Work

SOLitude Lake Management is the best in Charlotte and surrounding areas. They always do quality work, communicate effectively and follow through. Can't ask for more from them and appreciate all of the work that we have had the pleasure of partnering on!
Use SOLitude At Many of My Properties

Excellent company! I am a Community Manager and use them at many of my properties. Flo was very helpful and quick to help me resolve a communication request. Such a pleasure to find responsive people and professionals! Thank you!
Our Lake Is the Cleanest Around

In our dealings with SOLitude over the years, their professionalism, knowledge, and communication with my community are outstanding. Our lake is always one of the cleanest around. Thank you!
Couldn't Be More Satisfied

Our community began using SOLitude Lake Management after years of unfortunate experiences with another company. We could not be more satisfied, not only with the condition of our pond but also with the level of communication and response time from all the staff. We highly recommend this company.
A Great Experience

SOLitude makes the work seamless. They send monthly notices so you know they have been on site and recommend products or services you may not have considered, but will help reduce maintenance in the long run. Our local SOLitude representative is always quick to respond, very helpful, and stands by their products and services. Overall, working with them is a great experience and recommended highly.
Our Ponds Look Fabulous

SOLitude has the most responsive team. We use them to manage the runoff ponds that we have in our community. They send updates and let us know what we need to do to keep our ponds looking fabulous.
Created A Space the Community Can Enjoy

Our community has a one-acre pond that SOLitude has managed for our 200 homes development. They have done a fine job in maintaining the health of the pond so that people can fish and enjoy the surrounding area, wildlife, and gardens. It is a true oasis in a declining area of green spaces for all to enjoy.
SOLitude Keeps Our Lake Beautiful

We really appreciate SOLitude keeping our lake beautiful! Also, thanks to Flo for always providing great customer service when we have questions. Thanks!
Great & Fast Service!

Ean is always very helpful and resolved any problems I have right away. I highly recommend the company. Great and fast service!
Jason & Peter Are Quick to Help

I really enjoy working with SOLitude. They have a great team. Very responsive and excellent communication. I work with Jason and Peter on a daily basis and they are always quick to help.
Services Provide Great Results

Nick and the team at SOLitude provide excellent service and response for the communities we manage. They offer solutions and professional services that provide great results! Highly recommend them for all your aquatic needs!
Helpful & Knowledgeable Team

The entire SOLitude team is professional and friendly. I am impressed with the wealth of knowledge and especially how helpful they are.
Professional & Prompt with Service

We have been using SOLitude Lake Management for some time now and they are always professional and prompt with service. Raquel has personally assisted us in the office, she is awesome!
Easy to Communicate with the Team

I have a few communities that use SOLitude for their lake maintenance needs and I find it easy to communicate with them and get resolutions on any issues.
Staff Is Super Helpful and Friendly

SOLitude Lake Management was contracted by our HOA to service a lake in the center of the community. They have done a good job with the service calls, the contract was set at a reasonable price, and the office personnel is super helpful and friendly.
Peace of Mind

Working with SOLitude has been a great experience! Their professionalism, knowledge, and response/timing are the qualities that will give you peace of mind.
Our Lake Looks Great!

SOLitude's technician, Ian, is always pleasant and informative. He always calls me to update me on what was performed and if something else is needed. I have had many positive comments from other owners in my community regarding how great our lake looks. Thanks for the service.
Staff Is Professional & Courteous

Best lake company in Florida. SOLitude is always available when needed and the person that shows up is very professional and courteous while on our property.
Professional & Informative

As president of a local property management firm, I rely heavily on the expertise of SOLitude. They are professional and very informative to clients.
SOLitude Provided Wise Counsel

SOLitude provided wise counsel on how to keep our lake healthy and provided frequent onsite follow-up visits to check the success of new products. I am particularly impressed with the herbicide team!
The Water Is Crystal Clear

The water quality and clarity has been great! Our waterfall and fountain feature is located at the entrance of the community. We are mandated to use reclaimed water. The water is crystal clear.
Leslie Is One of the Best!

Leslie listened to my needs and concerns, she didn't offer a fix until she surveyed the lake. It was refreshing to work with someone who cared enough to listen and plan out the best needs of service. If you're looking for lake maintenance, she is one of the best! I highly recommend!
Very Professional & Responsive

The SOLitude team is my go-to for all my lake needs. Very professional and responsive. I know I will always be taken care of even when it is something extremely difficult. Their years of experience make them the best lake company in the valley. Highly recommended. Thanks, team!
Professional & Knowledgeable

Working with SOLitude has been a great experience! Their professionalism, knowledge, response, and timing are the qualities that will give you peace of mind.
A Pleasure to Work with SOLitude

For the past 2 years as a member of our neighborhood board, I worked personally with Mitchell of SOLitude Lake Management. Our neighborhood has over 40 lakes & ponds. I can honestly say it was a pleasure to work with this vendor. Mitchell provided weekly updates and as our aquatics expert, he helped educate us and assisted in developing a restorative approach to our lake & pond management. It was a pleasure to work with such a knowledgeable representative. Thanks!
SOLitude Helped Us Achieve Our Community Goals

As the manager of wetlands and open water for my community, I work with SOLitude Lake Management closely. They have helped us define our vision and achieve our goals. Every wetland area and body of water has different uses and different needs. SOLitude understands that and ensures those needs are met all the while keeping the budget in mind. We have annual fishing tournaments and they come out and talk with the anglers, explaining what we've done during the past year and what our future steps will be. Management of wildlife and waters is an ongoing and long-term commitment, SOLitude understands this. They have a dedicated staff that not only manages these areas but also helps educate their clients.
The SOLitude Team Is Absolutely Fabulous!

SOLitude consistently provides top-notch customer service and performance, whether it is over the phone or in person on-site. My questions are always answered promptly by your professional and knowledgeable staff. The SOLitude Team is absolutely fabulous!
Hat's Off to SOLitude!

SOLitude Lake Management has consistently performed to a high standard within the three communities they currently service for my clients. Whether it is routine maintenance or a major issue, I can always be assured that when I call or email we will have almost immediate communication and actionable timelines. In a busy industry such as this one, having someone that stays in touch is critical and appreciated. Hat's off to SOLitude for a job well done!
We Are In Good Hands with SOLitude

We were presented with the challenge of dealing with our stormwater basin, which is regulated by EPA standards that we were not familiar with. SOLitude came in and guided us through the entire process. Our basin went from an eyesore to a spectacular main selling point for our community. We are in good hands with SOLitude and cannot thank them enough!
Helping Enhance Residential Communities Nationwide
At SOLitude Lake Management we're dedicated to making water a more healthy and beautiful part of our environment and our world. In that pursuit, we offer sustainable, comprehensive lake and pond management solutions for multifamily properties. Discover how we can help you achieve beautiful water for residents.