Achieve Beautiful Water with Aeration
Pond Aeration Systems and Types of Water Aerators
Oxygen is a fundamental part of life, including life under the water. Property owners and managers want to look out the window at a clear, sparkling waterbody filled with healthy native species, but without sufficient dissolved oxygen (DO) levels, what stares back at them may be a green, slimy mess. Everyone deserves a waterbody that sparks joy and brings value to their property. Fountains and aerators are excellent tools to begin cultivating the waterbody of your dreams – and there are many different types to choose from.
Floating Fountains: Beautiful Lighting Features & Spray Patterns
Floating fountains are the most recognizable aeration solution. It's not uncommon to see them gracing ponds in business parks, private properties, and everywhere in between. First and foremost, these systems enhance waterbodies with dynamic beauty and movement. Available with a wide array of sizes, heights, lighting features, and spray patterns, fountains can be used to accentuate the natural aesthetics of a property or create a stunning focal point that impresses residents and visitors.
Floating Fountains: Add A Focal Point to Your Pond
Property owners and managers work hard to take care of their waterbodies and fountains help draw attention to these efforts. But perhaps more importantly, fountains help support healthy water quality conditions by increasing the transfer of oxygen to the water column. As water cascades across the surface, it creates beneficial turbulence and circulation. Waterbodies with abundant DO can more efficiently break down nutrient-rich muck and organic materials that accumulate over time – nutrients that aquatic weeds and algae rely on for fuel. When water quality is more balanced, lakes and ponds are less susceptible to poor and unsightly conditions.
Submersed Aeration Systems: Enhance Water Quality
Floating fountains can positively impact the water column as deep as 6 feet, but to reach greater depths experts recommend submersed aerators. Submersed systems, which sit directly on the bottom, are connected to an on-shore compressor that pumps oxygen to the unit. As the air bubbles are released into the waterbody, they create consistent circulation and oxygenation. Though submersed aerators do not offer the magnificence of fountains, they provide more efficient, cost-effective water quality benefits.
Surface Aerators: An Efficient Aeration Tool
Fountains and submersed systems work very differently, but property owners and managers who want the best of both worlds may find luck with a surface aerator. Similar to fountains, surface aerators float on the water and are most effective in waterbodies less than 6 feet deep; however, they have a lower profile and create a boil-like flow rather that inject up to 3 pounds of oxygen per horsepower into the water every hour – significantly more than a traditional spray pattern. Like submersed aeration, surface aerators are designed for function, not form, but they can be paired with a variety of fountains to create a more striking look.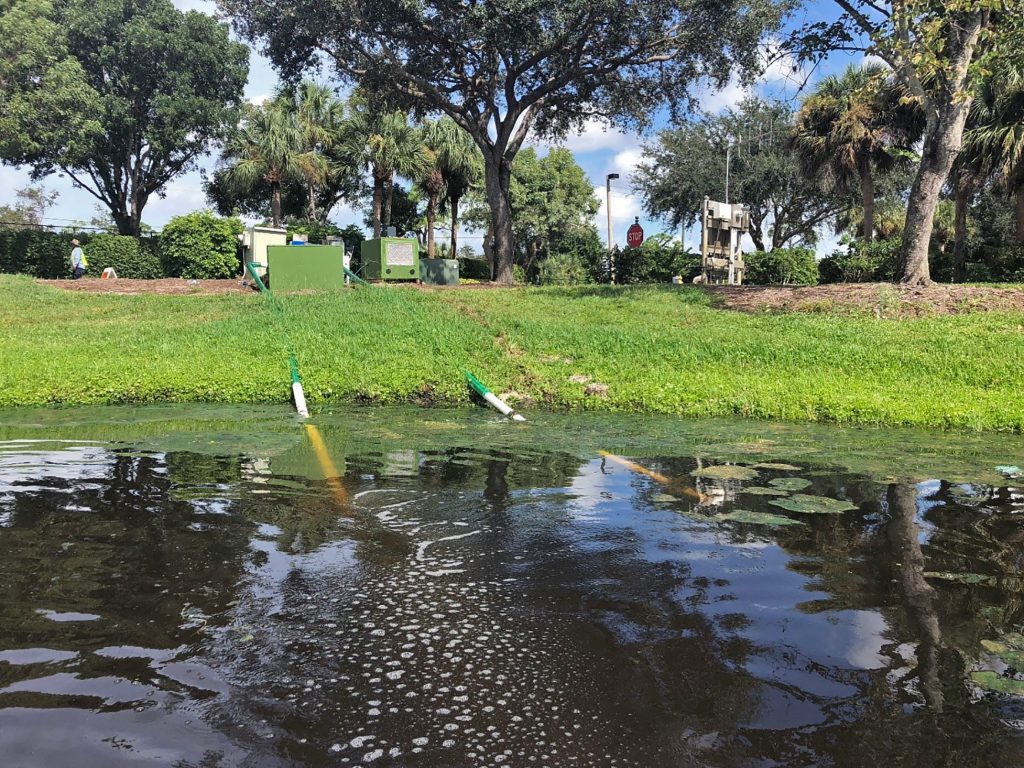 New Oxygenation Technologies
Though virtually every waterbody can benefit from increased DO, the physical characteristics can vary vastly. When evaluating your lake or pond, an aquatic expert may use bathymetric mapping technologies to model the bottom and determine exactly where aeration is needed, what type of equipment is best, and how many systems to install. In some cases, more niche aeration solutions like Oxygen Saturation Technology (OST) or nanobubbles may also be recommended for maximal impact.
Conduct Annual Maintenance on Aeration Systems
Fountains and aerators are beneficial, low-maintenance investments. Through an Annual Management Program, aquatic experts typically conduct monthly or bi-monthly inspections of equipment to ensure they are functioning properly and clear of debris. Every 2-3 years, experts also complete an oils and seals change to keep the system in optimal condition – much like changing the oil or breaks on your car. In regions of the country that experience long periods of freezing during the winter, professionals may advise physically removing equipment from the waterbody for off-site storage. However, in areas with less severe winters, fountains and aerators are useful tools to help prevent ice formation and maintain open water all season long.
Adopt the Integrated Approach
Fountains and aerators are powerful tools in lake and pond management, but cannot be used alone. Beautiful waterbodies are no accident – they are cultivated using an array of sustainable solutions to prevent deterioration over time. These solutions include the use of nutrient-mitigating technologies like Phoslock, Alum, and EutroSORB, beneficial biological bacteria, ongoing water quality testing, shoreline buffers and restoration techniques, mechanical hydro-raking to physically remove bottom build-up, and when needed, highly-targeted herbicides and algaecides. To begin cultivating a waterbody you can take pride in, speak with an aquatic expert about the unparalleled benefits of fountains and aerators.
SOLitude Lake Management is a nationwide environmental firm committed to providing sustainable solutions that improve water quality, enhance beauty and preserve natural resources.
SOLitude's team of aquatic scientists specializes in the development and execution of customized lake, stormwater pond, wetland and fisheries management programs. Services include water quality testing and restoration, algae and aquatic weed control, installation and maintenance of fountains and aeration systems, shoreline erosion control, muck and sediment removal and invasive species management. SOLitude partners with homeowners associations, golf courses, private landowners, businesses and municipalities. SOLitude Lake Management is part of Rentokil, a leading business services company, operating across the United States, Canada and Puerto Rico.
For more information, visit SOLitude Lake Management at solitudelakemanagement.com, and connect on Facebook, LinkedIn and Twitter.