Planning for Lake Management Services
When to Start Budgeting for Lake Management
Budgeting is important no matter where you are in your lake maintenance journey. Maybe you're well on your way, or perhaps you're just getting started. But throughout the entire lifetime of your waterbody, your goals and budget are going to drive the direction of your management plan. 
How your budget will be used – and when to start thinking about it – can depend on many different factors. Are you concerned about quickly solving immediate problems like aquatic weeds and algae? Herbicides and algaecides provide cost-effective and nearly immediate results, though they are usually short-lived and may require yearly spraying to achieve full control. But in some cases, such as ahead of outdoor events in mid-summer, a rapid and economical turnaround is exactly what's needed to impress residents or customers.
Consider the Longevity of Your Pond
Conversely, you may be thinking about the longevity of your waterbody. Many of the lakes and ponds in our communities are man-made to collect stormwater during rainstorms. Preserving their health is essential to prevent flooding, filter debris and pollutants, and remain in compliance with local stormwater regulations. Unfortunately, the very nature of these man-made structures can make them susceptible to the development of muck that reduces depth and volume. Eventually, physical removal of organic material via dredging will be necessary to restore the waterbody to its original state.
Avoid Costly Restoration Services
Dredging is one of the most costly services an HOA, golf course, or business may ever face, which is why budgeting well in advance is key. But far too often, stakeholders fail to begin preparing for a dredging project until it becomes an immediate need. This can put decision-makers in an extremely difficult spot – either they scale back facility maintenance obligations, divert funds for other important projects like new roofs and parking lots, raise dues, or face the steep fines associated with noncompliance. The best way to avoid having to make these difficult choices is by partnering with aquatic experts to evaluate your waterbody, predict when dredging will be needed, and strategize a feasible budgeting timeline.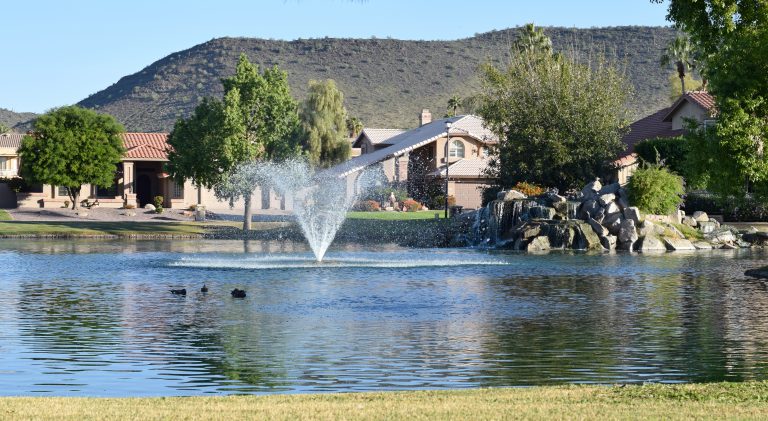 Budget for Annual Services
So, when is the best time to start thinking about budget? Ideally, as soon as possible! But in general, the fall and winter seasons are an excellent time to reflect on your goals for the coming year and consult with a professional about what it will take to achieve them. Unlike the summer when water quality problems are at their worst, the off-season provides a great window to design a management program that encompasses proactive management solutions that halt problems before they manifest come spring.
Proactive management programs provide two-fold benefits. In addition to preventing immediate issues like algal growth, weed infestations, and fish kills, this approach also slows the degradation of the aquatic environment, prolonging the need for those larger costly services like dredging, and allowing more time to budget for when the need eventually comes. And while proactive management strategies – like nutrient remediation, biological bacteria, fountains and aeration, buffer management, and ongoing water quality testing – are sometimes more of an investment than a quick herbicide application, they may be more cost-effective over time because they address the root causes of issues that, in the long run, can cause ongoing complaints, financial strain, and big headaches.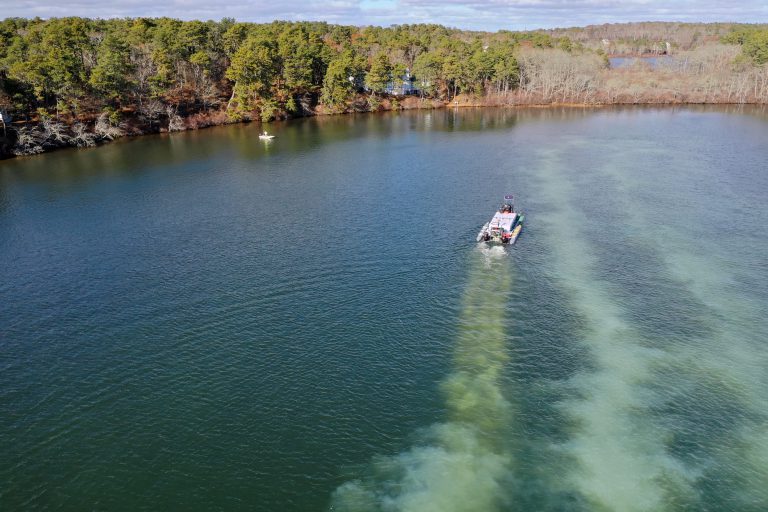 Maintain Clean, Beautiful Water Year-Round
Property managers, golf course superintendents, and other decision-makers are tasked with the enormous responsibility of keeping their lakes and ponds in top condition at all times. One of the best ways to successfully do so is simply planning ahead. A professional lake manager can help set realistic expectations for the future of a waterbody and the costs stakeholders are likely to face, big or small. Contact your lake manager today to begin planning for the coming year.
How to Achieve Healthy Water with Sustainable Solutions
SOLitude Lake Management is a nationwide environmental firm committed to providing sustainable solutions that improve water quality, enhance beauty and preserve natural resources.
SOLitude's team of aquatic scientists specializes in the development and execution of customized lake, stormwater pond, wetland and fisheries management programs. Services include water quality testing and restoration, algae and aquatic weed control, installation and maintenance of fountains and aeration systems, shoreline erosion control, muck and sediment removal and invasive species management. SOLitude partners with homeowners associations, golf courses, private landowners, businesses and municipalities. SOLitude Lake Management is part of Rentokil, a leading business services company, operating across the United States, Canada and Puerto Rico.
For more information, visit SOLitude Lake Management at solitudelakemanagement.com, and connect on Facebook, LinkedIn and Twitter.