Pond Aeration Systems and Fountains
Lake And Pond Fountains & Aeration
Floating Fountains, Waterfalls and Solar Aerators
SOLitude Lake Management continually strives to promote the most balanced aquatic ecosystems for the enjoyment of all who live in and around lakes and ponds. With this in mind, an important part of lake and pond management is providing an oxygen-rich environment within the pond. This is where a high quality and properly sized pond aeration system comes into play: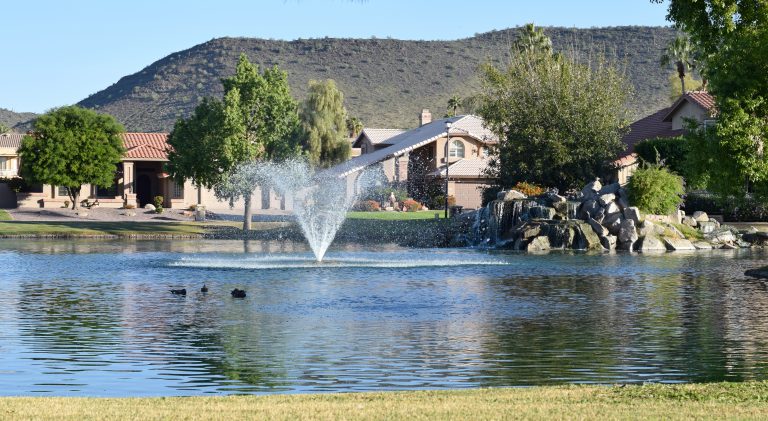 Floating Pond and Lake Fountains
SOLitude Lake Management offers fountain installation, fountain maintenance and warranty support for all of the top brands of lake and pond fountain equipment. We offer a complete line of AquaMaster®, Vertex, Aqua Control, Kasco and Air Max fountains, and have consistently maintained a position as one of the top three distributors in the world for AquaMaster, the industry leader in floating lake and pond fountain design and manufacturing. Complete customer satisfaction is our goal with the sale of every lake and pond fountain product we offer.
Benefits of Pond Water Fountains
Floating lake fountains and aerators add an element of beauty to waterbodies
The aeration and circulation that floating fountains provide is essential to maintaining overall pond health.
Properly sized lake and pond aeration systems will help to mitigate damage caused by nutrient loading that occurs through the inflow of stormwater.
Submersed Pond Aerators
Submersed pond air diffusers will help to "clean" the water of cloudiness and odors. Most importantly, pond aerators help to reduce the overall accumulation of organic sediment on the bottom and reduce the available nutrients in your water column, thereby reducing the likelihood of problematic algae blooms and other water quality problems. Installation of a submersed pond aeration system also aids in the promotion of a healthy habitat for fish and other aquatic life.
SOLitude offers and installs a variety of submersed lake aeration systems and pond aerators and can work with you to find the perfectly sized pond aeration system.
Nanobubble Aeration
Nanobubble aeration treatments are designed to naturally eliminate algae. Nanobubbles produced by submersed generators are ultra-fine and nearly invisible to the eye; in fact, at less than 1 micrometer, they are about 400 times smaller in diameter than human hair and 1 million times smaller than ordinary bubbles.
As a result of their size, nanobubbles have no natural buoyancy, which means they do not rise out of the water and burst on the surface like bubbles produced by conventional systems. Instead, nanobubbles directly saturate the water with up to 79,000x more oxygen and can target algae in the water column for 2-3 months.In addition to superior oxygenation and direct algae control abilities, nanobubbleshelp limit the negative impact of excess nutrients. Nanobubble molecules arenegatively charged, and, therefore, are attracted to positively charged organicmatter in the water column. When nanobubbles connect with positively chargedpollutants, nanobubbles oxidize and render them inactive, which keeps them fromfurther fueling nuisance algae or plants or causing other undesirable water qualityconditions.
Solar Aerators for Ponds
Sometimes it's not feasible to install an aeration system in an isolated lake or pond with no economical way to provide a power source. Fortunately, for those who are unable to get electric power to their lake or pond, there are now a variety of viable solar powered pond aerators. Solar pond aerators are also the perfect option for those who are focused on reducing their ecological footprint by utilizing alternative energy sources. And since there is little to no cost associated with powering a solar aerator, the system will help pay for itself over time.
Water Features and Waterfalls
Aeration Systems Offering Beauty & Function
SOLitude Lake Management offers waterfall repair, fountain maintenance and warranty support for all of the top brands of lake and pond fountain equipment. Water feature contractors like SOLitude can offer commercial small pond fountains, and pond waterfalls which could include elements of electric, artificial rockwork, stone and landscaping. Our fountain installation staff is manufacturer-trained to service all industry-leading small pond fountains and their features. We support and maintain most of the well-known brands.These revolutionary fountains are available in a wide variety of spray patterns, giving you the power to create dazzling waterscapes, pond waterfalls, while also adding to the health and vitality of your lake or pond through the aeration.
Custom water features and decorative waterfalls are a perfect tool for those looking to add dimension to their waterbodies while experiencing these valuable benefits.
Waterfalls can be complex to install and may require extensive planning, but once in place water feature maintenance is typically simple since the pump and motor are external to the water.
Service points for most water features are located within an enclosed space protected from the elements, which typically equates to a long and cost-effective service life.
Architectural fountains like pond waterfalls can be complex to install and requires a detailed fountain maintenance plan. Service points for most pond fountains are located within an enclosed space protected from the elements, which typically equates to a long and cost-effective service life. Fountain repair and waterfall repair when necessary also extend the life of your equipment. Your lake and small pond fountains have parts and a motor that need to be maintained. Solitude Lake Management can create a fountain maintenance plan to best help you preserve the life of your small pond fountain, and keep it working at an optimal level.