Lake & Stormwater Pond Maintenance: Top Educational Articles
Top 5 Lake Management Articles of 2023
We understand the importance of maintaining a healthy and beautiful lake or stormwater pond. That's why our aquatic experts work hard to provide you with the knowledge and resources so you can feel confident in the decisions you make for your lake or pond. 
This year, our educational articles highlighted various lake and pond management topics including pond aeration, fish stocking, erosion repair, lake restoration, and new water quality management technologies. However, five articles stood out among our readers.
Check out our top five lake management articles of this year below!
5. How to Physically Remove Lake Weeds
Do aquatic weeds often impair your lake? With mechanical solutions, you can naturally control weed growth and enhance your lake's health and beauty. Not to mention, see immediate results! Discover the tools you can implement to physically remove unsightly weeds and how you can prevent their return with preventative management.
4. Check on Your Fishery's Health With An Electrofishing Survey
Growing big, healthy fish isn't easy, but electrofishing surveys can help make it possible. Electrofishing is a safe and effective strategy used to evaluate the health of fish in your lake or pond. The data gathered can help experts make informed decisions to ensure that your fishery remains on the path to success. Discover how electrofishing can help you achieve the massive catches you deserve.
3. When Do Pond Plants Start Growing?
Nuisance and invasive aquatic weeds are some of the most common issues lake and pond owners or managers deal with. To effectively control the growth of pond weeds, it's vital to know what time of year they start to develop. Learn more about aquatic weed growing season and how you can get ahead of weeds by implementing proactive management solutions.
2. How to Fix Eroded Lake Shorelines In 3 Steps
Shoreline erosion is a natural phenomenon that occurs for many reasons, including heavy wind and rain, human and wildlife activity, and urban development. Though erosion is common, it's important to address the damage before it further impacts the health of your waterbody. Discover how you can repair shoreline erosion damage in three steps.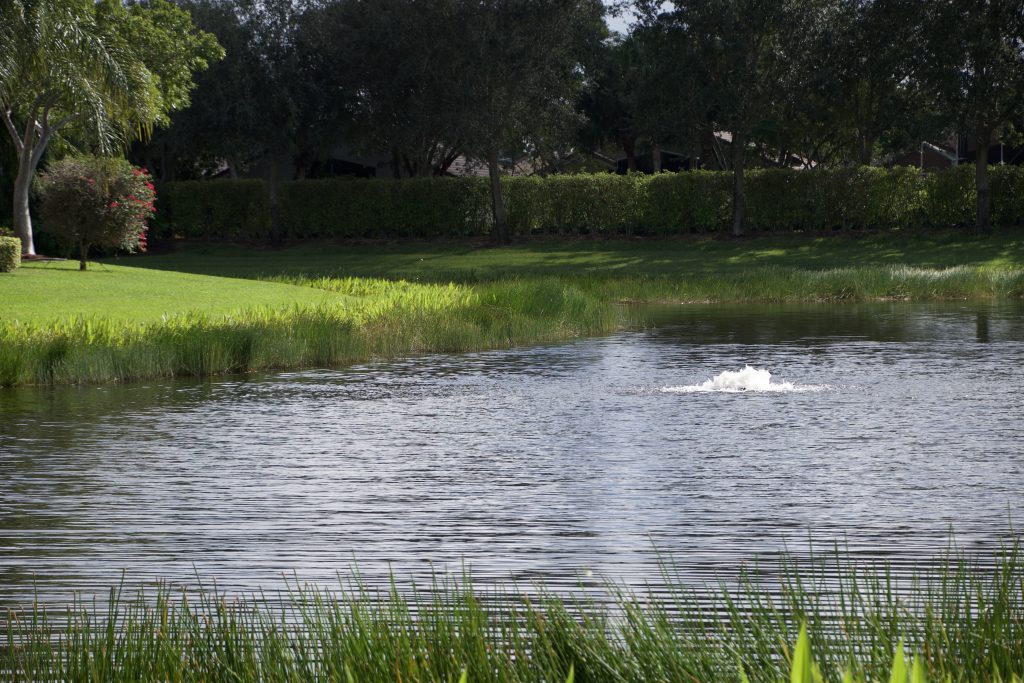 1. Why Are Fountains and Aeration Systems So Popular?
Floating fountains, surface aerators, and submersed diffused aerators are commonly found in lakes and stormwater ponds, but what makes them so special? The popularity of these pond aeration systems comes from their ability to enhance the aesthetics of your property as well as the health of your aquatic ecosystem. Discover the benefits each system provides and determine which solution is best for your lake or pond.
Achieve Beautiful, Healthy Water in 2024
We believe that everyone should be able to enjoy their waterbody without worrying about water quality issues like algae and weeds. Are you ready to have beautiful water in the new year? Contact us today and an aquatic expert will work with you to create an annual lake or pond maintenance program that will keep your water clean and healthy year-round.
We Know You Care About Your Water. We Care Too.
SOLitude Lake Management is a nationwide environmental firm committed to providing sustainable solutions that improve water quality, enhance beauty and preserve natural resources.
SOLitude's team of aquatic scientists specializes in the development and execution of customized lake, stormwater pond, wetland and fisheries management programs. Services include water quality testing and restoration, algae and aquatic weed control, installation and maintenance of fountains and aeration systems, shoreline erosion control, muck and sediment removal and invasive species management. SOLitude partners with homeowners associations, golf courses, private landowners, businesses and municipalities. SOLitude Lake Management is part of Rentokil, a leading business services company, operating across the United States, Canada and Puerto Rico.
For more information, visit SOLitude Lake Management at solitudelakemanagement.com, and connect on Facebook, LinkedIn and Twitter.