Stormwater Pond Management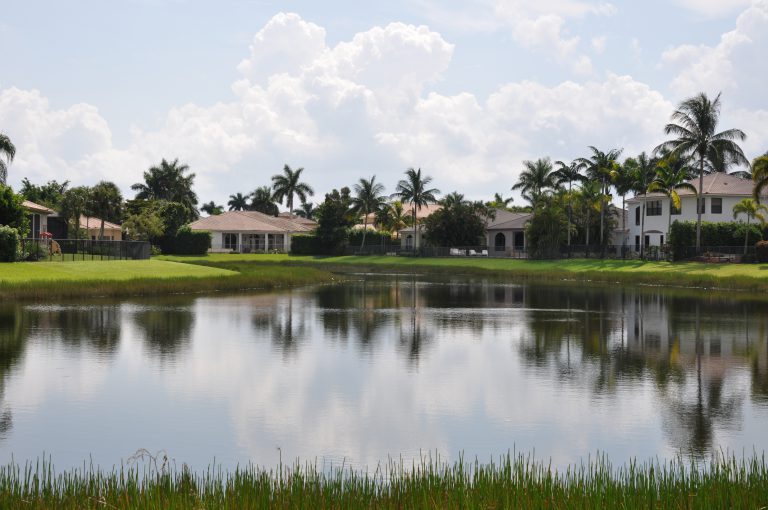 Creating A Sense of Community Around Your Stormwater Pond
AS SEEN IN Common Ground Magazine, Community Associations Institute, July/August 2014: Written by Tracy King, Director of Marketing
We may not all live in Mayberry, but wouldn't it be nice to have a gathering spot where everyone can meet up with your neighbors and enjoy a natural environment? As the world around us gets busier with technology, meetings and obligations, having a serene place practically in your backyard is a wonderful perk. Your community's stormwater pond could be the perfect area in your neighborhood for your HOA to focus on developing programs around…literally!
Whether it is prominently displayed at the entrance or hidden among the landscape, due to stormwater regulations, most communities have stormwater ponds. These ponds, first and foremost, serve to slow, absorb, and trap pollutants that would otherwise be carried into the watershed. With proper management practices, they protect our watersheds and improve our surface and groundwater.
While many communities have professional maintenance programs to keep their stormwater system healthy and in working order, has your community explored how this functional body of water could be developed into a community asset?
It makes no difference if your stormwater pond is tucked neatly into a far corner of your community or is the showcase of your neighborhood, a beautiful landscape can be painted for your homeowners with one simple addition…a decorative floating fountain. Fountains provide aeration, an important component to maintaining a healthy stormwater pond. Aeration is an essential water quality tool because it adds oxygen by circulating surface water. This process increases the production of beneficial bacteria and vegetation, reduces mosquito larvae, and helps to keep your fishery healthy by increasing the livable space available to fish and reduces the possibility of a fish kill.
Another tactic for creating a peaceful environment surrounding your stormwater pond is to add lush vegetation. As an accent to your water environment, flowering bushes, colorful plants, and beautiful grasses all have a dual purpose as an enhancement and as a water quality management tool for your stormwater pond. The root systems of these plants serve to prevent erosion as well as absorb nutrients. Both of these functions will help keep your stormwater pond healthier and avoid a nutrient overload, which could cause an algae bloom or proliferation of nuisance vegetation.
Beneficial buffers can be planned and managed just like every other aspect of your landscape. In addition to the aesthetic improvements, you can work with your pond management professional to install buffers that encourage particular insects such as butterflies or dragonflies or perhaps even non-nuisance wildlife. The added benefit to attracting dragonflies is that their feeding habits include mosquito larvae. While you and your neighbors enjoy the scenery, it will be so much more beautiful if you can enjoy it in a mosquito-free environment.
Providing aesthetic, outdoor community-accessible areas can increase the property value and intrinsic value of a neighborhood. Consider finding the choice views and thoughtfully creating places to relax and enjoy the scenery. Maybe a few benches with small gardens surrounding your stormwater pond could encourage your community members to sit, relax, and enjoy a beautiful setting.
Once your community has created a picturesque landscape, how can you use this gorgeous backdrop to create memorable events for you and your neighbors? Your stormwater pond is now a possible community meeting place and location to host events.
With fun and family-focused summer activities and holidays upon us, think about using your stormwater pond as a meeting place. Perhaps your neighborhood holds a 4th of July Parade where families display their American Pride. Your festivities could begin and end at your neighborhood pond. Connect with your local fire house and perhaps they could even bring over a hook and ladder for the kids (and parents!) to check out. Or host a "ride-up" movie night. When the comfortable warm nights can be taken advantage of, encourage families to ride their bikes to your community pond where they can watch a classic family movie such as The Goonies or Where the Wild Things Are on a blow up screen. Have your Social Committee put together grab bags of popcorn, candy and marshmallows for the kids…big and small.
If your stormwater pond is tucked near a wooded area, it is a great way to introduce children to fresh water aquatic life and the surrounding areas. Start an Adventurers Club which encourages families to take "walk abouts" to discover the wildlife and vegetation that gravitate to aquatic environments. Connect with your local pond or landscape professional to help you identify and catalog the vegetation surrounding your pond. You can create a "scavenger hunt" for kids where they try to identify as many species as possible.
An outdoor and family friendly activity that is sure to build a sense of community and bring hours of fun is fishing. With proper guidance, it is easy to turn a stormwater pond into a prosperous fishing hole for your neighborhood to enjoy.
The first step in adding fishing to your community's list of amenities is to consult with your pond management company's fishery biologist. Together, you can define a set of goals for creating a successful stormwater fishery. Your custom plan should answer these questions, among others: What kinds of fish would you like to have available? Is your community interested in having "tagged" fish for tournaments or creating fun fishing games? How can this upgraded amenity fit into your annual stormwater budget? What is your time frame for having fishing available to your community?
While fishing would be available year round, creating annual fishing tournaments are a great way to infuse a little healthy competition into the neighborhood. Perhaps, first connect with a local fishing expert to come and teach the neighborhood some basic fishing techniques. After everyone has a chance to practice, let the games begin! Awards can be won for the most fish caught, the longest fish, the heaviest fish or even the reverse (shortest or lightest). Stocking some larger sized fish will definitely make the tournaments more interesting. If you opted to "tag" your fish prior to stocking, you will have additional opportunities to award prizes. With planning and foresight, a handful of fish can be tagged, without being harmed, with colored tags that can be used in many ways. Anyone who catches a fish tagged as the "prize fish" or catches the most of these fish can win a prize or at least bragging rights until the next tournament.
An added benefit of having a healthy fishery in your stormwater pond is the possibility of enhanced mosquito control. As defined in your Fisheries Management plan, you will have to create opportunities through beneficial vegetation or added supplemental feeding fish (or prey for your main fish) to keep your investment swimming. One fish that could be introduced as a source of food is fathead minnows. These minnows then feed on mosquito larvae, leaving a smaller population of adult mosquitos around your stormwater pond and in your neighborhood. For the non-fishers in your community, be sure to mention this added benefit. It will certainly garner some additional support for the project.
The supplemental cost of adding a fishing program to your stormwater management program could be less than you think. There are many aspects of quality stormwater management that go hand in hand with maintaining a fishery. Proper aeration to oxygenate and give fish space and beneficial buffers for fish to swim, hide and mate are extremely important elements of a Fishery Management Plan. These water quality management activities and the associated costs could already be a part of your community's stormwater budget.
There are so many ways that your required stormwater management pond can help you create a bond with your neighbors. A planning meeting at your next Homeowner's Association gathering is the right place to start. Discuss the demographic makeup of your owners and decide how best to use this dedicated space to build friendships and memories together. So, who wants to "catch" up soon?