How to Stock for a Trophy Fishery
What Fish to Stock for a Trophy Fishery
In the complex world of fisheries management, several variables influence the success of a trophy fishery. Largemouth bass are a popular trophy species among fishing enthusiasts, as well as other predator fish such as Hybrid Striped Bass, Tiger Muskie, Bluegill, Specklebelly Sunfish, or Catfish. Cultivating a robust population of trophy fish requires a consistent supply of prey, which Fisheries Biologists achieve through strategic fish stocking.
There is more to fish stocking than meets the eye; species type, size, availability, temperature, location, and time of year are important considerations when developing a stocking program. Stocking strategies will also depend on stakeholder goals and budget.
What time of year should you stock your fishery?
In general, the optimal range for stocking most fish species is 55 to 75 degrees Fahrenheit. This temperature range allows fish to comfortably acclimate to their surroundings and find sufficient food and refuge. In most areas of the country, this means stocking usually takes place in the fall or spring.
Conduct an Electrofishing Survey Before Stocking Fish
Before choosing the proper species, a Fisheries Biologist will likely conduct an electrofishing survey to evaluate current predator-prey relationships and remove fish if the dynamics are imbalanced. They will then design a stocking program, choosing from several staple prey fish species based on the needs of the waterbody and the stakeholder's budget and goals.
Types of Forage Fish to Stock In A Trophy Fishery
Bluegill, for example, are popular prey fish that mature quickly and have a 5 to 6-year lifespan – providing long-term forage. Redear Sunfish are also commonly stocked as they support the food chain and have a unique diet of mollusks which helps prevent the spread of parasites to other fish. Golden Shiners are another species that serve as excellent forage for predator fish.
Threadfin shad are a favorite among Fisheries Biologists for their abundant prey status and reproductive capacity; however, they die when water temperatures drop into the low 40s, so they typically need to be restocked every spring. Although this seems inefficient, they make up for it by producing significant biomass to fuel predator fish throughout the summer.
Types of Fish to Stock for Winter Fishing
In certain regions, trout may also be suitable candidates for stocking. In the fall or early winter, they can be stocked at smaller sizes to serve as forage for large predator fish during the cooler months, or stocked at larger sizes to create fun cold-weather fishing opportunities.
Stocking Predator Fish in Your Trophy Fishery
When it comes to trophy fish, stocking also tends to take place in the spring and fall, aside from fingerling Largemouth bass, which are typically stocked mid-summer. Stocking predator fish should only be done when necessary so as to not interfere with growth goals.
It is important to note that each state has its own stocking regulations. Before introducing any fish species, familiarize yourself with your state's regulations, obtain the necessary permits, and consult with a Fisheries Biologist for guidance.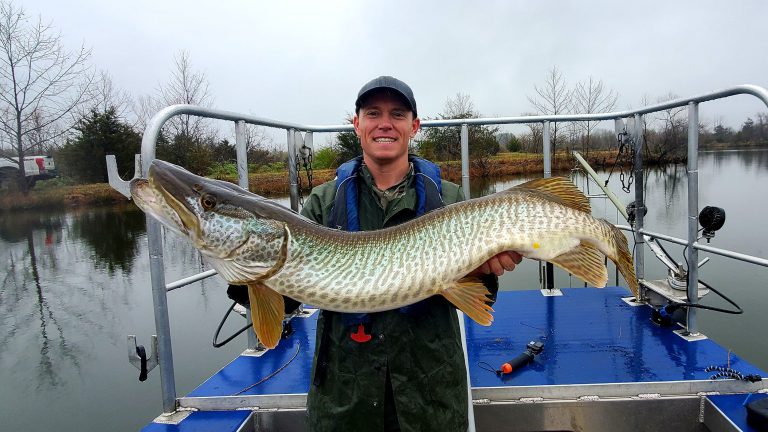 Create An Integrated Fisheries Management Program
Explore Our Fisheries Management Solutions
SOLitude Lake Management is a nationwide environmental firm committed to providing sustainable solutions that improve water quality, enhance beauty and preserve natural resources.
SOLitude's team of aquatic scientists specializes in the development and execution of customized lake, stormwater pond, wetland and fisheries management programs. Services include water quality testing and restoration, algae and aquatic weed control, installation and maintenance of fountains and aeration systems, shoreline erosion control, muck and sediment removal and invasive species management. SOLitude partners with homeowners associations, golf courses, private landowners, businesses and municipalities. SOLitude Lake Management is part of Rentokil, a leading business services company, operating across the United States, Canada and Puerto Rico.
For more information, visit SOLitude Lake Management at solitudelakemanagement.com, and connect on Facebook, LinkedIn and Twitter.