Greater Tampa, FL Area Lake Management. Tampa, St. Petersburg, Lakeland and Wesley Chapel
Our Service Area
We provide comprehensive services to all types of markets, including CDDs, homeowners associations, golf courses, commercial developments, and municipalities from multiple operating sites around Tampa – St. Petersburg, Lakeland, Riverview, and Wesley Chapel. Our specialized team is ready to help you restore ecological balance to your waterbodies, reduce the impact of nuisance plants, toxic algae, and midge flies, and introduce aesthetic water features that bring value and beauty to your property.
SOLitude Lake Management
Regional Headquarters:
217 Apollo Beach Blvd.
Apollo Beach, FL 33572
Monday

Tuesday

Wednesday

Thursday

Friday

Saturday

Sunday

8AM–5PM

8AM–5PM

8AM–5PM

8AM–5PM

8AM–5PM

Closed

Closed
Addressed Overgrowth In Canal

We had major overgrowth in our canal leading to lake tarpon. SOLitude came out promptly, assessed the situation, and addressed the problem. We are very happy with their service and have also retained them to maintain our canal on a monthly basis.
Superior Service for Over 7 Years

Jason and Jacob are the two aquatic specialists that I have been dealing with for seven years. In my HOA, we have 10 retention ponds, two inflow, and one outflow canal. Very complex ecosystem overall! SOLitude and their staff have provided superior service to all of us over the years! When we have concerns, they have always stepped up to the pump! 5-star rating!
Invasive Weeds Are Under Control

We have been using SOLitude's services for the past three years for managing the neighborhood lake. Their service is excellent. All type of weeds including water hyacinth is now under control without harming the marine ecosystem. The technician who services the lake always makes sure all individual complaints of the resident are taken care of. Will definitely recommend their service, especially for big ponds and lakes.
Managed Invasive Plant In 45-Acre Lake

Thomas has been my service tech over the last year helping to manage our 45-acre lake's problem of dealing with horribly invasive water hyacinths. Thomas is professional, courteous, and knows his profession well. I look forward to continuing to work with him and SOLitude next year and moving forward.
Great Partnership for Nearly A Decade

I'm the property manager of a large residential community in the Tampa Bay area. The property has 27 waterbodies ranging in size from several hundred square feet to almost 69 acres. SOLitude has serviced our aquatic needs for nearly a decade which have ranged from shoreline restoration and aquatic plantings to algae treatment and aeration with excellence and integrity. As a partner in our efforts to always improve our water quality they are a great resource and are able to provide any service relating to water that may be needed.
Pond Is Completely Clear

When SOLitude came to our rescue, our pond was covered in water lettuce. As each month went by, the pond became clearer and clearer until now it is completely clear and I am completely grateful that the beautiful, clear pond that was there when we moved in 36 years ago, is once more. Thanks to Mike and everyone at SOLitude who made this possible!
Jason & Peter Are Quick to Help

I really enjoy working with SOLitude. They have a great team. Very responsive and excellent communication. I work with Jason and Peter on a daily basis and they are always quick to help.
Services Provide Great Results

Nick and the team at SOLitude provide excellent service and response for the communities we manage. They offer solutions and professional services that provide great results! Highly recommend them for all your aquatic needs!
Fantastic Team

Fantastic team – very attentive to my spike rush issue, and would not quit till it was under control. I would highly recommend them.
Helpful & Knowledgeable Team

The entire SOLitude team is professional and friendly. I am impressed with the wealth of knowledge and especially how helpful they are.
Sustainable Solutions for Tampa Area Lakes and Wetlands
SOLitude Lake Management is dedicated to making water a more healthy and beautiful part of our world. In that pursuit, we utilize sustainable strategies that improve water quality, enhance beauty, preserve natural resources and reduce our environmental footprint. We specialize in proactive long-term management solutions that solve the water quality problems faced by lakes, stormwater ponds, canals and wetlands throughout the greater Tampa area including:
Annual Lake Management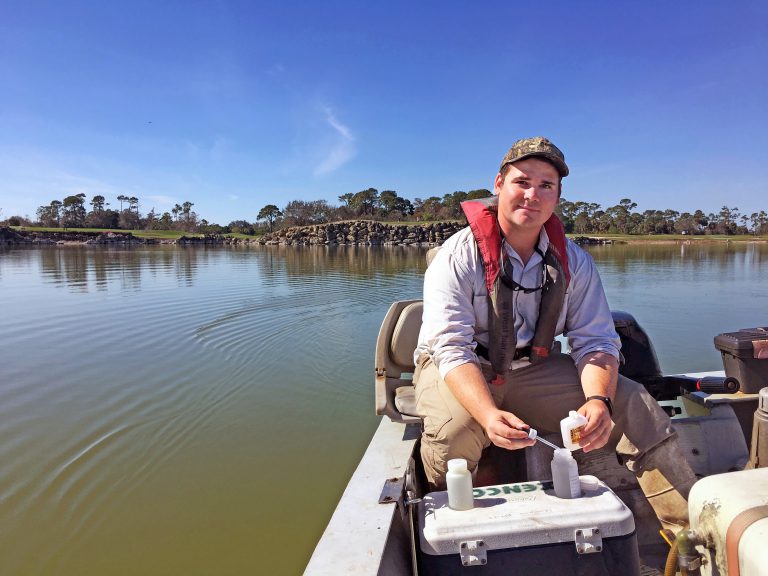 Water Quality Testing
Aquatic Weed & Algae Control
Erosion Repair
Aeration & Fountains
Fisheries Management
We Know You Care About Your Water, We Care Too.
We know it can be frustrating when your water looks bad. Achieving clean, healthy water that you can enjoy and appreciate year-round is possible. With our aquatic management experts, you can reach your goals in three simple steps.