Austin and Central Texas Lake, Pond and Fisheries Management. Austin, Round Rock, Temple, Waco & College Station Areas
Our Service Area
We provide comprehensive services to all types of markets, including homeowners associations, municipalities, fisheries and private properties from multiple operating sites in Austin, Round Rock, Pflugerville, Georgetown, Temple, Waco, College Station and beyond. Our experienced team will work with you to identify goals for your property and design a plan to achieve them. Our experts can also make recommendations to improve the aesthetics and value of your water resources, while promoting environmental stewardship. If you are not located within the area below, please take a look at our other locations.
SOLitude Lake Management
Regional Headquarters:
1707 East 29th Street
Bryan, TX 77802
Monday

Tuesday

Wednesday

Thursday

Friday

Saturday

Sunday

8AM–5PM

8AM–5PM

8AM–5PM

8AM–5PM

8AM–5PM

Closed

Closed
Made My Pond Nice to Look At

This company is amazing! I called and explained the issues I was having with my pond, and Josh came out and assessed my pond. After doing so, he was able to put together a regiment that helped bring my pond back to where it was nice to look at! I would recommend this company to all of my friends and family!
Paul Goes Above & Beyond

Paul is great to work with. He goes above and beyond each time he comes out. He has taken my lake to levels I would have never dreamed of.
Pond Has Never Looked Better

Josh did a fantastic job on our pond project. Very professional and paid close attention to the details. Our pond has never looked better and already seeing an increase in size and number of fish. Highly recommend this company for your pond and lake management needs!
Recommend Without Hesitation

I have used SOLitude's services for about five years. They have turned my pond into a very fine little fishery for bass and bluegills. They have also made the pond much more attractive. SOLitude's consultants check my pond on a regular basis and I have found them all to be knowledgeable, friendly, and very service oriented. For any landowner looking to improve the appearance and the fishing productivity of their pond, I would recommend SOLitude without hesitation.
Positive Results

My subdivision in College Station, Texas, has two lakes and SOLitude Lake Management took over water and shoreline management six months ago. While we still have occurrences of water weeds, algae, and duckweed, we are getting on top of the problems much quicker. While we are only halfway into our 1st-year contract, these early, positive results are encouraging. We appreciate the service and especially the science SOLitude brings to our relationship.
Thanks to SOLitude!

My stocked pond looks better than it has looked in 45 years, thanks to SOLitude!
What A Great Company!

When looking online for a new fish feeder, we had unpleasant experiences with two local fisheries. I decided to call a feeder manufacturer in San Antonio, who recommended SOLitude Lake Management. They were terrific! Paul Dorsett called me directly and was so kind and helpful. He arranged for a feeder to be delivered and set up for us. Although Paul was out of town, he sent his "ace" out, Ryan Young. Ryan and Alex Harrison were efficient, answered all questions, and were very nice young men. Paul even followed up to make certain that everything went smoothly. What a great company! Customer service is what it's all about these days and SOLitude Lake Management knows exactly that.
Proof Is In The Pudding

Paul Dorsett and the rest of the team at SOLitude have done an absolutely wonderful job in helping us to create Lake Willis! In just a few short years we have gone from having just a few baitfish and perch, to catching a nearly 9-pound bass (our new record). Now if we could just have more time to fish as recommended, we could take out the 300 fish that need to come out. As far as we are concerned, we followed SOLitude's recommendations and our fish have averaged growing of 2 pounds per year…proof is in the pudding!
A Truly Valuable Investment

We began with two small lakes that were never managed 10 years ago. With SOLitude's help and expertise we expanded both lakes from 2 acres to 6 acres and began a monthly management program. We went from a spotty fish population to trophy bass with some over 10 pounds! SOLitude is efficient and really cares about the lake ecosystem. Seeing my three-year-old granddaughter catch her first bass makes the investment truly valuable. Thanks, SOLitude.
From Frustrating to 100% Fishable

When we hired SOLitude, our 12-acre lake was about 1/3 full of lily pads and hydrilla which were frustrating to the fish. Within 4-6 months, the lake became 100% fishable and the coloring and bloom were much more attractive. The recent addition of 8 or so built brush piles has added much-needed structure for bait fish and is now a great target that is producing bass on every other cast! A very common afternoon will produce 100 fish a day.
Sustainable Solutions for Austin and Central Texas Area Lakes, Ponds, Wetlands and Fisheries
SOLitude Lake Management's expert team is dedicated to cultivating healthy, balanced freshwater ecosystems. In that pursuit, we utilize sustainable tools and resources to enhance aesthetics, improve water quality and limit our impact on nature. We bring proactive solutions to lakes, stormwater ponds and canals throughout Austin and Central Texas including:
Annual Lake Management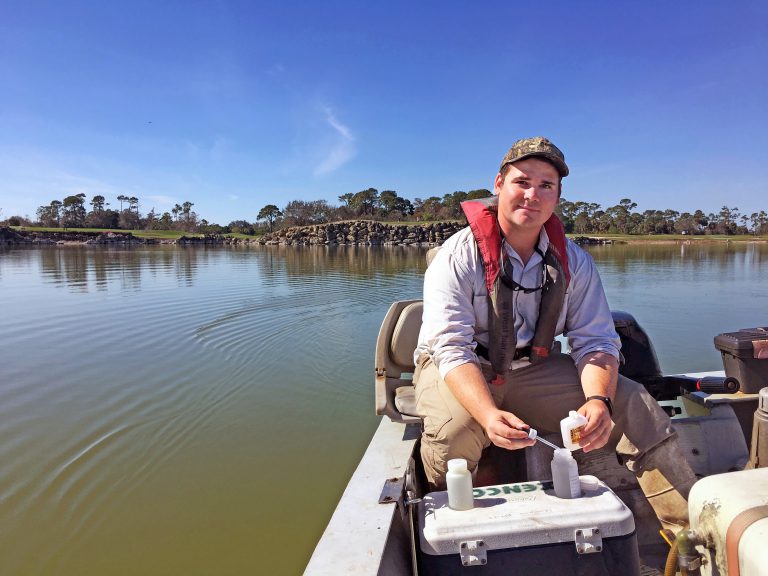 Water Quality Testing
Aquatic Weed & Algae Control
Erosion Repair
Aeration & Fountains
Fisheries Management
Your Partner In Worry-Free Water Management
We know it can be frustrating when your water looks bad. Achieving clean, healthy water that you can enjoy and appreciate year-round is possible. With our aquatic management experts, you can reach your goals in three simple steps.