Our SOLitude Family
Anthony Macedo
District Manager (CA)
Anthony Macedo – Anthony Macedo serves as the District Manager for SOLitude Lake Management's West region. Anthony has over a decade of management experience and is responsible for leading the operations of SOLitude's California office and Nevada operations.
Anthony graduated from Saint Mary's College of California with a Bachelor of Science Degree in Business Administration with a minor in Computer Information Systems. He has extensive experience managing teams in different industries, including customer service, transportation, and consumer services.
Prior to SOLitude, Anthony spent four and a half years running Northern California termite with Orkin where he successfully implemented plans for improvement around operational deficiencies. Before Orkin, Anthony spent 7 years with Avis Budget Group throughout the San Francisco Bay Area.
Anthony currently resides in the San Francisco Bay Area with his wife and three children. Outside of work, he can be found spending quality time outdoors with his family by bike riding, fishing, camping, and boating
Rene Sandoval
District Manager (Southern CA)
Rene is the District Manager and Aquatic Specialist for the Anaheim, California, region. He enjoys working with clients to help them reach their lake or stormwater pond goals. Rene works with his local team to ensure each client receives prompt and effective service throughout the region.
Ryan Gotchy
Operations Manager (AZ)
Ryan Gotchy is the Field Operations Manager in Arizona. He helps oversee the maintenance and installation of floating fountains and submersed diffused aeration systems to help improve water quality and circulate client waterbodies.
As an Arizona native, Ryan is experienced managing aquatic ecosystems in the local environment. He is a licensed chemical applicator through the Pest Management Division of the Department of Agriculture and maintains membership with Tradesmen International.
Salvador Gaytan
Operations Manager (CA)
Salvador Gaytan is an Aquatic Crew Leader responsible for executing maintenance and construction projects throughout SOLitude's California region. Salvador has more than 20 years of experience in the lake management industry and regularly interfaces with clients to ensure their needs are met and expectations exceeded throughout each project he leads.  
Salvador joined the SOLitude team in 1998. Since then, he has maintained his Qualified Applicators License and contributed to an array of high-profile environmental restoration projects for municipalities, well-known corporations, and private properties, including the California Academy of Science and Bass-Pro Shop. His expertise extends to the construction of lakes, ponds, and waterways, fountain installations, and extensive dredging projects.
Additionally, Salvador is certified in pesticide regulations, confined space training, and CPR, and has completed OSHA training.
In his spare time, Salvador spends as much time as possible with his family and daughters. He enjoys watching sports and is heavily involved with spartan races.
Jose Botello
Operations Manager (CA)
Jose Botello is a Field Operations Manager for California and Nevada. Jose has held numerous roles within the aquatic industry since 2002. Jose has in-depth knowledge and experience in managing lakes and ponds, aquatic weed and algae control, installation of fountains and aerators, and other aquatic-related services.
Jose currently possesses a Qualified Applicators Licence – Aquatic from the Department of Pesticides and Regulations in California and Primary Principle License from the Nevada Department of Agriculture.
Outside of work Jose enjoys spending time with his wife and three kids outdoors whether it is hiking, fishing, or camping.
Austin Hogan
Operations Manager, Environmental Scientist (CO, WY)
Austin Hogan is the Field Operations Manager and an Environmental Scientist serving the Colorado and Wyoming region. After earning his Bachelor of Science in Environmental Geoscience from Texas A&M University, Austin joined the SOLitude team in 2020. He focuses on providing excellent customer service through developing and implementing sustainable lake management strategies that achieve the goals of our clients. Austin is trained and experienced in the utilization of preventative and reactive treatment methods, installation and maintenance of fountain and aeration systems, and water quality monitoring.
Austin has experience managing small teams and is responsible for fostering our relationships with customers. He is passionate about restoring water bodies back to their natural beauty and creating healthy ecosystems that can be enjoyed. Outside of the workplace, Austin enjoys spending time with his wife and their two fur babies, Halpert and Beesly, trying new recipes, hiking, and snowboarding.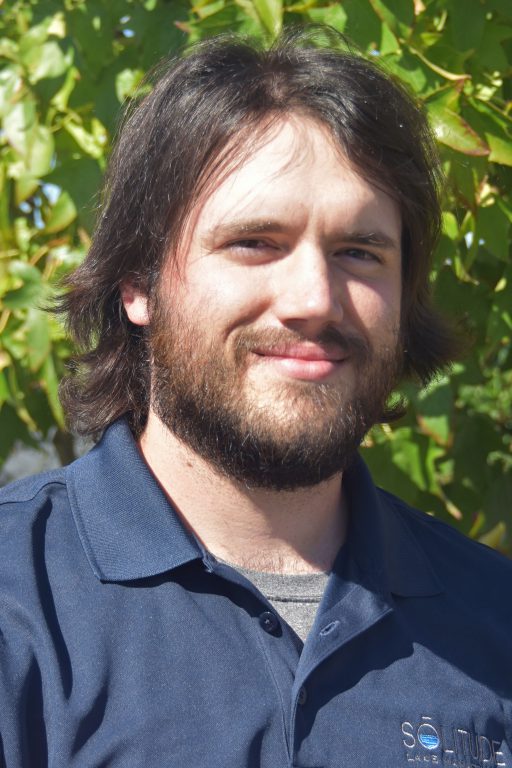 James Joyce
Project Manager, Aquatic Specialist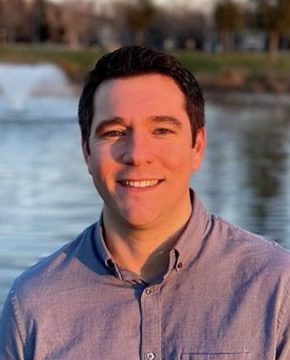 Chase Morgan
Business Development Consultant (Northern & Central CA)
Chase Morgan is an Aquatic Specialist and Business Development Consultant for Northern and Central California who regularly works with property managers to identify valuable solutions for lake and pond problems. He works closely with his stakeholders to ensure their waterbodies remain healthy, beautiful, and functional throughout the year. Chase is knowledgeable about all aspects of aquatic ecosystem management, but has a particular specialty in water quality restoration, shoreline maintenance, fish stocking, and weed and algae management. Chase is an advocate for stakeholders and prides himself on providing valuable solutions to solve any water quality challenges. His favorite thing about the role is developing strong relationships with homeowners and property managers. Chase attended his Bachelor of Science degree from Oklahoma State University.
Jacob Hughey
Business Development Consultant (Southern CA)
Jacob
Hughey
 is an Aquatic Specialist and Business Development Consultant who helps property managers identify solutions for all lake and pond needs or issues. Prior to joining SOLitude Lake Management, 
Jacob
 was a chain-sales merchandiser for Southern Glazers Wine and Spirits, a wine and spirit distribution company. 
Jacob
managed the Beverly Hills and West Hollywood territories until transferring to Long Beach. Before that,
Jacob
spent over a year working at a golf course both in the pro shop and on golf carts in Long Beach.
Jacob
graduated from Long Beach State University where he completed his bachelor's degree in Journalism, while also playing baseball for the 'Dirtbags'.
Jacob
 currently lives in Long Beach and enjoys golfing, fishing, and watching a good movie with friends and family.
Jon Evans
Business Development Consultant (AZ, NV)
Jon Evans is an Aquatic Specialist and Business Development Consultant based in central Arizona. His academic background is in Conservation Biology with an emphasis on freshwater limnology and studies of Sonoran Desert Wildlife. He grew up in diverse outdoor environments ranging from Arizona cattle ranches to the swampy waterways of Louisiana and southeast Texas. Prior to joining SOLitude Lake Management, he worked as a state-licensed inspector for Wood Destroying Organisms & Pest Control, and provided specialized Wildlife Control sales for two international corporations. Jon is an award-winning Business Development professional having served the Southwest region for 30+ years. He graduated with a Bachelor of Science from Arizona State University. Jon's passion is saving the health of the lakes, waterways, and ponds which serve a crucial symbiosis for all creatures in the ecosystem of our unique, beautiful Southwestern states while serving the equally-crucial needs of our SOLitude Customers. 
Jon lives in Fountain Hills and enjoys any time spent with family & friends, as well as RV Camping, road trips, fishing, grilling, boating, Mexican cuisine, sci-fi movies, and comedy clubs.
Elizabeth Ceja
District Support Specialist
Elizabeth is a District Specialist for our Northeast region. She enjoys working with our clients to ensure their needs are being met, their questions are being answered, and they are receiving swift service from our operations team.
In her free time, Elizabeth enjoys spending time outdoors and relaxing with her fiance, cat, and dog.
Discover Our Mission
SOLitude was built by the hard work, dedication & passion of aquatic experts in lake management to find solutions for communities and clients.
Recommendations Are Thoughtful & Achievable

Erin and the rest of the SOLitude crew do a fantastic job monitoring water quality and algae growth. Erin used environmentally friendly products to control both the algae and maintain water quality with great success. Site visits are as promised and reports are clear and concise and recommendations are always thoughtful and achievable. We appreciate the effort by Erin and the other SOLitude staff that support our effort.
The Water Is Crystal Clear

The water quality and clarity has been great! Our waterfall and fountain feature is located at the entrance of the community. We are mandated to use reclaimed water. The water is crystal clear.
Successfully Eradicated Hydrilla

I've been battling Hydrilla milfoil for a number of years, without great success. I stumbled across SOLitude Lake Management online and I'm so glad I did! Noel and his team of professionals listened to our problem, gave advice, and developed a management plan for our lake. They applied a very thorough milfoil-specific treatment and now, all of the visible weed is eradicated! I wish I would've found this company years ago! I would highly recommend anyone who is looking for a team to help with any lake weed issues.
I Suggest You Call SOLitude

SOLitude was very professional and understood the budget constraints that we have at our community center and lake. They proposed properly sized solutions to help us solve the algae problems in our lake. The staff was great to work with – I suggest you call them.
Healthy Water Quality & Fish

SOLitude has been managing our lake for the past two years. Through their efforts, the lake's water quality has improved tremendously. Even with one of the hottest and dryest seasons I received nothing but compliments on the water clarity as well as positive feedback from fishermen about the abundance of healthy fish.
Leslie Is One of the Best!

Leslie listened to my needs and concerns, she didn't offer a fix until she surveyed the lake. It was refreshing to work with someone who cared enough to listen and plan out the best needs of service. If you're looking for lake maintenance, she is one of the best! I highly recommend!
SOLitude Takes Sincere Interest In Our Needs

Noel has been helping our fly fishing club stock rainbows and cut bows in our river and lake. He takes a sincere interest in our needs, understands our unique situation, and always delivers great fish.
Whole Team Provides Consistent Service

SOLitude Lake Management is an awesome company. Their team is very responsive and provides clear invoices in a timely manner. Flo was very helpful in providing the necessary documents that I requested to keep on file. She has a friendly attitude and the whole team provides consistent service to the job site. I highly recommend considering them for your lake management needs.
Our Pond Is In Very Good Health

SOLitude manages a pond for us that is a shared responsibility between three entities. The health of our pond has been very good since they took over the maintenance. I would recommend SOLitude for pond maintenance needs.
Easy to Work With & Professional

SOLitude Lake Management has been a tremendous help with our two small ponds. Easy to work with and very professional. Customer service was excellent. Thank you, Kaitlyn and Matti.
Improved Our Lake's Appearance & Health

SOLitude Lake Management was able to provide some experienced/expert advice regarding our unique lake environment. The follow-through on their recommendations has significantly improved our lake's appearance and health. Their knowledge was an asset and their "in the field" personnel have been great to work with at our Golf Club.
SOLitude Solved All the Problems

SOLitude Lake Management did a great job. Dylan is the gentleman that works on two of our property ponds, and from day one, he's solved all the problems. Very professional and explains every step of what he is doing.
Staff Give 110% Day After Day

Reliably at the job site ahead of our scheduled time. Good communication ahead of fieldwork to get details nailed down. Staff gives 110% day after day even in challenging environments. Courteous and respectful; great ambassadors for our project. Great value for top-notch work.
Very Professional & Responsive

The SOLitude team is my go-to for all my lake needs. Very professional and responsive. I know I will always be taken care of even when it is something extremely difficult. Their years of experience make them the best lake company in the valley. Highly recommended. Thanks, team!