Greater Sarasota, FL Area Lake Management. Sarasota, Bradenton, Sebring and Port Charlotte
Our Service Area
We provide comprehensive services to many markets, including CDDs, homeowners associations, golf courses, commercial developments, and municipalities from multiple operating sites in Sarasota, Bradenton, Sebring, and Port Charlotte. Our dedicated scientists are equipped to help you accomplish your goal of creating an aesthetically pleasing property while promoting sound environmental stewardship principles.
SOLitude Lake Management
Regional Headquarters:
1561 Global Court
Suite D
Sarasota, FL 34240
Monday

Tuesday

Wednesday

Thursday

Friday

Saturday

Sunday

8AM–5PM

8AM–5PM

8AM–5PM

8AM–5PM

8AM–5PM

Closed

Closed
Pleasure to Do Business With

SOLitude Lake Management is a pleasure to do business with. Very professional and friendly from the first contact by phone to the actual order, installation and follow-up.
Homeowners Are Happy with Results

SOLitude has been maintaining our community lakes for the past two years and they are now in excellent shape. Before we switched to SOLitude, we had severe problems with algae growth during the summer. They were able to analyze the problem and over a period of about a year get the lakes cleared up. Our homeowners are very happy with the results.
Pleasure to Work with Mitchell

For the past 2 years as a member of our neighborhood board, I worked personally with Mitchell of SOLitude Lake Management. Our neighborhood has over 40 lakes & ponds. I can honestly say it was a pleasure to work with this vendor. Mitchell provided weekly updates and as our aquatics expert, he helped educate us and assisted in developing a restorative approach to our lake & pond management. It was a pleasure to work with such a knowledgeable representative. Thanks!
Go-To for Wetland Preservation

Liz was extremely helpful in providing diligent and competitive pricing and pushed aggressively to meet our deadlines. The quality exceeded expectations and the service was first class! I strongly recommend SOLitude Lake Management to anyone seeking wetland/preservation/lake or even pond maintenance and/or mitigation of EPD. SOLitude performed our initial wetland preservation mitigation to clean and treat for invasive species of plants and maintain/treat on-site ponds & wetlands. Great job Liz & SOLitude!
Sustainable Solutions for Greater Sarasota, FL Area Lakes, Ponds and Wetlands
SOLitude Lake Management's mission is to make the world a better place through sustainable water quality management. In that pursuit, SOLitude utilizes eco-friendly tools to enhance beauty and preserve natural resources. Our solutions aim to proactively address water quality challenges that impact lakes, stormwater facilities, canals and wetlands throughout the greater Sarasota area including:
Annual Lake Management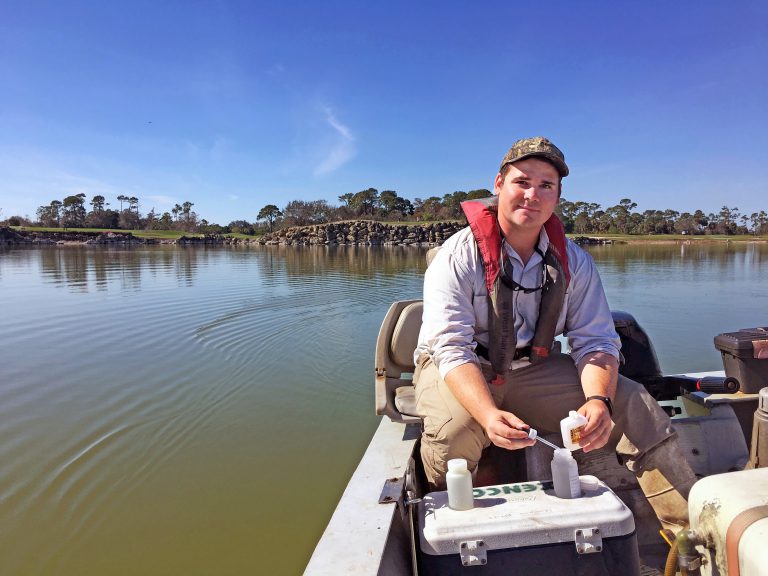 Water Quality Testing
Aquatic Weed & Algae Control
Erosion Repair
Aeration & Fountains
Fisheries Management
We Know You Care About Your Water, We Care Too.
We know it can be frustrating when your water looks bad. Achieving clean, healthy water that you can enjoy and appreciate year-round is possible. With our aquatic management experts, you can reach your goals in three simple steps.