Lake Management for Private Properties
Lake Management for Private Landowners: Achieve Water You're Proud Of
Everyone wants a beautiful lake and achieving clean water is hard, especially when you have other priorities to focus on. We understand how time-consuming it is to be a landowner and managing your private lake is the last thing you want to worry about at the end of the day. You work hard for your property and you deserve to spend time enjoying it…
Become the Envy of Your Neighbors with a Beautiful Lake
A lake or pond is often the focal point on many private properties, but when covered in algae or aquatic weeds, it can quickly become an eyesore. Our aquatic experts partner with landowners across the country to help them achieve water they are proud of. Our team utilizes scienced-backed solutions to ensure lakes and ponds are healthy and beautiful year-round so you don't have to deal with the frustrations of managing your water.
Achieve Beautiful Water In 3 Steps
Worry-free water management is possible! With the right solutions and management plan in place, you can start spending more time appreciating your water instead of worrying about it. Our lake and pond management professionals can help you reach your waterbody's goals in three simple steps…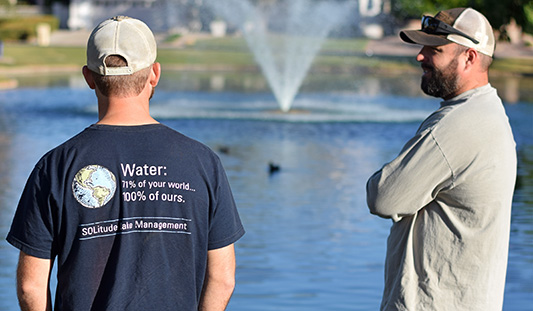 1. Set Up A Free Consultation
2. Build Your Custom Plan
3. Enjoy Worry-Free Water!
We Know You Work Hard for Your Land. We Want to Help.
We are happy to provide a suite of innovative solutions that proactively manage your waterbody so you can focus on other aspects of your property. Whether you use your lake as a recreational resource where family and friends can gather to enjoy a day of fishing or swimming or simply for aesthetics, these solutions can help you achieve the water you desire:
Aeration
Submersed aerators help enhance water quality in lakes and ponds by increasing dissolved oxygen levels. This natural tool is an excellent addition to any waterbody looking to maintain balanced water quality.
Floating Fountains
We offer installation, service, and warranty support for all of the top brands of lake and pond floating fountains. This solution helps increase dissolved oxygen levels in shallow waterbodies while enhancing aesthetics.
Water Quality Testing
An array of tests are conducted to check a waterbody's vitals and establish an initial baseline of health. Water quality data helps our aquatic experts determine which management tools to implement to help you achieve your goals.
Shoreline Erosion Management
We offer a variety of shoreline erosion control solutions that halt sedimentation and restore damaged banks. Enhance your shoreline with SOX Systems and create a safe space for all to enjoy.
Fisheries Management
Ready to catch some fish? We offer professional fish stocking, habitat management, fish feeder installation, electrofishing surveys, and other fisheries management strategies to help you build your dream fishery.
Hydro-Raking
The hydro-rake clears accumulations of unconsolidated muck and debris (i.e. decaying leaves, peat, etc.) from lake and pond bottoms. This natural solution can also be used to control aquatic weed growth.
Algae & Aquatic Weed Control
Our lake and pond professionals utilize the most advanced products and practices for lake weed control and algae treatment solutions to help eliminate algae and nuisance aquatic weed growth.
Nutrient Remediation
Nutrient remediation is a natural management strategy utilized to reduce excess nutrient levels in lakes and ponds. Products like Phoslock, Alum, and EutroSORB can help limit water quality imbalances by managing excess nutrient levels.
Beneficial Buffer Management
Beneficial buffers add beauty to your lake or pond, prevent shoreline erosion, and help filter excess nutrients from entering the water. Establish your buffer with native vegetation to help maintain beautiful water.
Bathymetric Studies
Equipped with the very latest in GPS surface mapping, bathymetry, 3-D contour imaging, and aerial and fly-over video resources, we are able to analyze your waterbody below the surface with lake mapping technologies.
Dredging
Increase the depth of your waterbody while removing sediment and muck buildup with dredging. With this solution, you can reset the lifespan of your lake or pond and implement proactive solutions for a healthier waterbody.
Enhancing Private Lakes & Ponds Across the Country
Toxic Algae Management
Invasive Plant Control
Toxic algae can be harmful to humans and animals who come in contact with the bloom. Proper management can help enhance your waterbody's beauty and safety.
Managing invasive aquatic weeds can transform your waterbody and protect the future health of your aquatic ecosystem.
Learn More
Adopt the Integrated Approach: Lake Management Solutions that Work Better Together
Waterbodies are complex which means they often need attention from many angles. A holistic Annual Management Plan that incorporates beneficial buffer management and annual water quality testing can give you a healthy, beautiful waterbody. Neglecting to establish a buffer or an aeration system, for example, could leave your waterbody vulnerable to erosion, toxic algae blooms, and other water quality issues. Integrating customized lake and pond solutions will lead to a more balanced management program and give you peace of mind knowing you and your family can enjoy healthy and safe aquatic resources year-round.
They Are Simply the Best!

I hired SOLitude to help me out with a new pond in West Virginia. Heather was super helpful and knowledgeable in walking me through the process. She introduced me to Robert and they are simply the BEST. I have a lot of questions and they are super patient, helpful, and responsive. Most of all they both are knowledgeable (and pedigreed) in the world of aquatic life and health. It was a great decision to contract with SOLitude.
Turned Pond Into a Thing of Beauty

SOLitude has been servicing our large residential pond for some years now. They do a wonderful job in all respects! They took a water plant and algae-clogged mess and turned it into a thing of beauty! Work quality is superb, customer service is first-rate. We are extremely well pleased.
Thanks for the Professionalism & Commitment

I'm a property manager in Upperville, VA. I maintain a 100-acre farm with an 8-acre pond on the property. We hired SOLitude in the late winter to guide, educate, and help manage the pond. We recently held an event and the pond was the centerpiece. A huge thanks to Jackson – his professionalism and commitment to producing a quality product surpassed my expectations. I will recommend Jackson and his services to any and all after my experience.
Improved Water Quality Significantly

Shannon and Hunter are very professional and take a personal interest in taking the best care of our pond and more importantly, our pet koi fish. They have improved the water quality significantly and we are very pleased with their customer service.
Made My Pond Nice to Look At

This company is amazing! I called and explained the issues I was having with my pond, and Josh came out and assessed my pond. After doing so, he was able to put together a regiment that helped bring my pond back to where it was nice to look at! I would recommend this company to all of my friends and family!
Paul Goes Above & Beyond

Paul is great to work with. He goes above and beyond each time he comes out. He has taken my lake to levels I would have never dreamed of.
#1 Choice for Lake Management

Great client relations and very professional & knowledgable service teams. #1 choice for lake/pond clean-up, treatment, and removal of invasive species (among other services).
Cleared My Overgrown Pond

Great service. Our family pond was in really bad shape with overgrowth, lily pads, and other plants. Within the first few months, there was a big difference, and they were able to clear the pond without endangering the wildlife. I will definitely recommend this company.
James Keeps Our Lake Clean & Blue

Fantastic customer service. James does a top-notch job keeping our small lake clean and blue, and he also keeps us updated constantly as to when he's coming and what he's done. He is an outstanding employee.
Fantastic Team

Fantastic team – very attentive to my spike rush issue, and would not quit till it was under control. I would highly recommend them.
Pleasure to Do Business With

SOLitude Lake Management is a pleasure to do business with. Very professional and friendly from the first contact by phone to the actual order, installation and follow-up.
Thorough Assessment Of My Pond

Received prompt and thorough assessment of a pond on my rural property. Received the advice I needed to prevent algae and for improving conditions for fish. They have good educational material on their website that is free.
On Time & Do A Great Job

SOLitude is a great company! I have never had any problems with my lake care. They are always on time and do a great job. It's hard nowadays to find anyone who wants to work and take pride in their work. Thank you!
Super People to Work With

Our lake was a mess two years ago. SOLitude Lake Management came in once a month and took care of all the problems we had. Anytime we have issues, which there were very few, they send someone to address it within the week. Great company and super people to work with.
Easy to Work With & Professional

SOLitude Lake Management has been a tremendous help with our two small ponds. Easy to work with and very professional. Customer service was excellent. Thank you, Kaitlyn and Matti.
SOLitude Solved All the Problems

SOLitude Lake Management did a great job. Dylan is the gentleman that works on two of our property ponds, and from day one, he's solved all the problems. Very professional and explains every step of what he is doing.
Turn Your Private Lake Into A Personal Oasis
At SOLitude Lake Management we're dedicated to making water a more healthy and beautiful part of our environment and our world. In that pursuit, we offer sustainable, comprehensive lake and pond management solutions for private landowners. Discover how we can help you maintain clean water you can enjoy.