Aquatic Weed Control
The 3 Questions to Ask When It Comes to Invasive Aquatic Weeds
By: Jason Luce, Lake Management Scientist
Throughout history, humans have always been drawn to water. Each of us undoubtedly has positive memories centered around a lake, pond, or river. After all, these resources have forever played an important role in the health, happiness, and functionality of our communities by serving as sources of food, drinking water, and recreation. But as our world becomes increasingly developed, the risk of spreading aquatic plant species to non-native regions is at an all-time high. Once established in new ecosystems, invasive species can threaten local wildlife, impede recreational activities, even interfere with the management of stormwater.
The eradication of invasive species can certainly be viewed as an investment in the long-term safety and enjoyment of our water resources, but how can we accomplish this sustainably?
Where Do Invasive Species Come From?
Invasive plant species can travel and establish themselves within new ecosystems in a number of ways, including recreational boat travel, industrial shipping, bird migration and storm introduction through floods or high winds. Regardless of the specific travel mechanism, the invasive nature of a plant comes from an absence of natural competitors or predators. Plant biodiversity can decrease once an invasive plant is established, threatening the diversity of species that depend on native plants, including fish, animals, micro-invertebrates, and beneficial insects.
How Can Invasive Species Be Controlled?
Eradicating an invasive species can be difficult, especially within a large ecosystem such as a lake or wetland system. These plants may be floating, submerged, emergent, or wetland specific. Depending on the particular species and extent of growth, invasives can be removed physically via hand-pulling, cutting, burning, or mechanical harvesting. Unfortunately, these efforts can be costly and often need to be repeated over several years to ensure the invasive species is fully removed.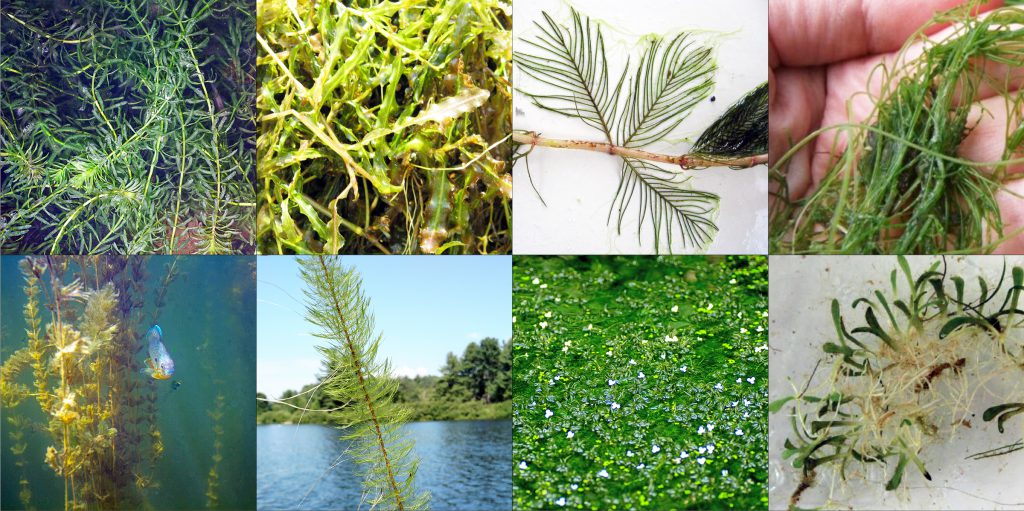 What If Physical Removal Efforts Are Unsuccessful?
Herbicides are typically used as a last resort option but are sometimes a necessary and incredibly important tool to target stubborn invasive species growth. While traditional herbicides have been effective at this task, a new innovative herbicide called ProcellaCOR has proven to more safely and efficiently target undesirable weeds, such as:
Water milfoil species
Hydrilla
Water hyacinth
Slender spikerush
Crested floating heart
Rotala
Swampweed
Parrotfeather
ProcellaCOR's dramatically lower use rates and favorable reduced-risk environmental profile allow professionals to more selectively target nuisance species without impacting native plants. This solution also requires a much shorter exposure time to the target plant, meaning clients can enjoy faster results without lake or pond closures. Finally, the reduced-risk profile, approved by the Environmental Protection Agency (EPA), also gives lake managers more opportunity to manage invasive species in states that are highly regulated.
ProcellaCOR applications can only be done by certified professionals, so you can rest assured that the management initiatives are completed safely and effectively.
Key Takeaways:
Selective weed management technologies continue to advance as lake and pond owners further prioritize long-term sustainable management practices. Nonetheless, ongoing monitoring and rapid response are key to staying ahead of any new potential spread. When an invasive species is identified in the early stages of establishment, it is possible to minimize an infestation before it gets out of hand.
Ultimately, we all play a part in the protection of our precious water resources from invasive species. Our efforts not only protect native wildlife and cut costs, they help to extend the longevity of lakes and ponds for our children and future generations to use, play and enjoy.
Managing Nuisance Aquatic Weed & Algae
Best Lake Company In Florida

Best lake company in Florida. Always available when needed and the person that shows up is very professional and courteous while on our property. You need more like this rep.
The SOLitude Team is absolutely fabulous!

SOLitude consistently provides top notch customer service and performance, whether it is over the phone or in person on-site. My questions are always answered promptly by your professional and knowledgeable staff. The SOLitude Team is absolutely fabulous!
Working with the team from SOLitude Lake Management took away the pressure of dealing with an issue that I had never specialized in

Working with the team from SOLitude Lake Management took away the pressure of dealing with an issue that I had never specialized in. The knowledge of everyone involved helped keep the process moving, from engineering to local code compliance. They knew the course that needed to be taken and it was implemented in a timely manner, causing the project to come to completion well within our expectations
Immediate Communication and Actionable Timelines

SOLitude Lake Management has consistently performed to a high standard within the three communities they currently service for my clients. Whether it is routine maintenance or a major issue, I can always be assured that when I call or email we will have almost immediate communication and actionable timelines. I am particularly impressed with Brent Weber, the Environmental Scientist that is routinely assigned to my properties. He consistently keeps me informed and up-to-date on the status of new issues and general or routine upkeep. In a busy industry such as this one, having someone that stays in touch is critical and appreciated. Hat's off to Brent and to SOLitude for a job well done!
Incredibly easy to install

Works great! Incredibly easy to install, takes less than 15 minutes to do 100 feet of shoreline. It's very effective – no geese since putting it up. I am a very happy customer.
The Goose D-Fence works great.

The Goose D-Fence works great. I'm happy that I have it. We've had no geese in the yard since putting it up. Couple of days ago a few geese showed up – looked at it and left. Great product.
The staff of SOLitude Lake Management identified the weed and treated the pond promptly with much success.

We've been working with SOLitude Lake Management since 2009 when an aggressive aquatic weed was becoming a problem and taking over our pond. The staff of SOLitude Lake Management identified the weed and treated the pond promptly with much success. Since that time, our ponds have been monitored monthly by their competent staff and precautions have been taken so that the pond weeds do not get out of control. We are pleased with the quality of service and their effort to work with us towards an organic approach to keeping our ponds healthy